This is a story about people who have a heart for people. This is a story about Tony and Carol Curl.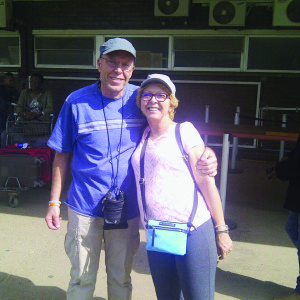 Tony is a F-V native and Carol, a North Carolinian herself, has lived in F-V since the two got married. Tony's family owned a farm on Highway 55 and his father owned a small gas station. After going to college and getting married, Tony bought his fathers' gas station, added a convenience store on it, and named it Farm House Grocery. This is now the location of Bagels Plus. They ran the store for 13 years. But their hearts were being pulled elsewhere.  More on that later.
In 2013, David and Bethany Morgan founded the incredibly inspiring nonprofit Love Abounds. The two graduated from FVHS in 2007, then from NCSU in 2012 and married that same year. This passionate young couple's mission is to share tangible love to the world's most vulnerable in order to create generational change in rural Africa. What does that look like? Partnering with village communities to meet people's basic physical needs and to spur economic and social development. Love Abounds has already built clean water wells, started a chicken farm, and is embarking on an even grander undertaking. Keep reading.
Why focus this important work in a single village? David and Bethany spent last summer in Zambia and a partnership grew rather organically between Love Abounds and Kunchubwe Village. This remote area is home to about a thousand men, women, and children. It led the couple to decide to concentrate Love Abounds' efforts in Kunchubwe Village with the hopes that it will serve as the model for future village partnerships. They were granted 7 acres of land and have already started putting it to great use.
Current Projects
Clean Water—Love Abounds has drilled 7 wells since 2013.  When you give water, you give life. And time! Villagers walk 3-5 miles a day to fetch water. That water has to be carried in 5-gallon buckets, which weigh in at around 40 pounds. You can take action by donating to the cause and spreading the word.
Chicks Empowered—Love Abounds is empowering women through chicken farming. Women learn how to generate their own income and become small business owners. Love Abounds is planning to buy 1,200 1-day-old chickens. Each one costs $5.50. Visit their website and click on the "Give a Chicken" button to donate 5, 10, 50, or 100 chickens to the women of Kunchubwe Village.
Kid-to-Kid Partnerships—Public education is not free in Zambia, and many mothers are forced to choose between sending their children to school or putting food in their bellies. Love Abounds partners local kids with same-aged peers in the States, and the two become pen-pals. The US child is then responsible for raising the money to sponsor his or her partner's school fees, which range from between $5-$17 per year. Take a look at the pictures of a dozen local children ready for partnership on the website.
The Big, Big Project
UNICEF estimated in 2012 that 1.4 million children are orphaned in Zambia. Through conversations with the local village leader, Love Abounds has learned there is an especially large population of orphans in Kunchubwe Village.  Unfortunately, orphans are often rejected and treated as outcasts by the surrounding community. They are less likely to attend school, to receive adequate food, or to simply find a consistent place to sleep at night.
Enter Tony and Carol Curl. (I told you they'd be back.) Tony and Carol's vision for an orphanage was ignited during their first trip to Africa nearly a decade ago. Since then, they've worked towards retiring and moving to Africa for this very purpose. After visiting Zambia in 2014 with Cornerstone Family Church, they decided that was where their heart belonged. A year later, they went back and met with David and Bethany, who had a vision that aligned perfectly with their own. So on April 6, 2016, after a hearty last supper at Cracker Barrel, they made the big move.
Their top 3 priorities for the orphanage are:
1. Break the cycle of abandonment and rejection in the lives of orphans.
2. Provide homes filled with love, care, fun, and family.
3. Give hope, inspire purpose, and provide tools for every child to pursue a bright future.
The orphanage will include 5 or 6 family unit homes, each housing around 8 children. Each home will have 4 boys and 4 girls with ages ranging from infant to about 16. They want to create a home environment where children will know that they are loved, where family values are learned from experience, and where kids can be kids!  Each home will be run by a house-mother who will be responsible for taking care of the children, cooking, cleaning, and gardening. Their hope is to employ widowed, abused, or abandoned women for this position.
Their goal by the summer of 2017 is to build 5 homes, giving 40 orphans new life in Kunchubwe Village. And there are a variety of ways—both big and small—to get involved.
1. The Build-A-Room Package: Every home will have 2 bedrooms to be shared among 8 children. Help them build their rooms with a one-time gift of $250. Your gift will provide one child with their own bed (considered a luxury item in the village), warm and comfortable bed linens, and a storage locker to hold their belongings.
2. The Nutrition Package: With this package, you are committing to a monthly gift that provides 3 meals per day for a month.  Every household will be supplied with a balanced diet according to the traditional foods in Kunchubwe Village. To support an entire household of 8 children and one house-mother = $60/month. To support one child's meals for the month = $8/month.
3. The Hygiene Package: The hygiene package supports one child's hygiene by providing a toothbrush and toothpaste, soap and shampoo, washcloths and towels, and bathing facilities. The hygiene package can be paid in 2 ways: a yearly gift of $100 or monthly gifts of $8.
So there you have it. Local people moving halfway across the world to make a big impact. Now there are only two degrees of separation between you and the people of Kunchubwe Village. You can make it just one degree by getting involved with Love Abounds. For more information, and to see gorgeous photography and inspirational stories, check out their website: www.aboundinlove.org