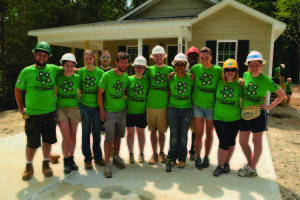 We are all familiar with Habitat for Humanity International (HFHI) and the incredible work the organization has accomplished around the world since President Jimmy Carter brought it national prominence in the early 1980s. Since 1976, Habitat for Humanity has provided almost 7 million people with safe, decent, and affordable housing through its unique mission-style mass volunteer projects.
Fuquay-Varina is no stranger to the work of Habitat for Humanity. Habitat has already built 10 homes in our community over the years, and now manages a Habitat ReStore next to Tractor Supply that helps fund their mission work through the sale of gently used or leftover construction materials.
This year, however, Fuquay-Varina is the site of five new homes being built through Habitat for Humanity's annual Build-A-Thon. One home will be built over 10 weeks beginning March 19th, and the other four will be constructed in one week through a partnership with AmeriCorps volunteers.
"We are honored that the Build-a-Thon leadership chose to return to Wake County in 2016," says Wake County chapter president Kevin Campbell. "We are proud to have AmeriCorps volunteers again as well. Their participation greatly increases our capacity to build affordable homes and help meet the tremendous affordable housing needs in Wake County."
The "community build" of the first house will begin on March 19th with a kick-off and initial construction day. As with most Habitat projects, this build invites local businesses, congregations, organizations, and individuals to join together to help raise funds and recruit volunteers to build the home. The build works from Monday through Saturday every week for 10 weeks – the first three days are reserved for professional services such as engineers, plumbers, and electricians, and the second three days are open for volunteer builders.
The biggest need, however, is volunteers on Thursdays and Fridays, since they are work days for most people. Habitat needs between 20 and 40 volunteers per day, and has to work hard to find volunteers for those days. In response to that need, the Chamber of Commerce has issued a challenge to all businesses in Fuquay-Varina to allow their employees a day off to volunteer on the build on Thursdays. "We are trying to engage our members with a few new programs this year," says membership director Lynanne Fowle. "One of them is partnering with a local service project, and we have chosen the Habitat for Humanity Build-a-Thon as our first project. As a leader in the business community, the Chamber is encouraging all its member businesses to clock some volunteer hours on Thursdays in support of the Habitat build."
Don't know anything about building a house? That's not a problem. Most average Habitat volunteers start off with no construction experience. Habitat staff is trained to direct new, inexperienced volunteers and none of the work is so technical that you can't pick up the basic skills and be helpful on a project of this size. Jobs change depending on the date that you sign up to work. Early in the process you might be framing walls, but later in the project you might be installing doors and windows, putting on siding, or painting (interior or exterior). And every one of these activities comes with instruction.
Registering to become a volunteer is as simple as accessing a website. "We have a volunteer registration system that allows volunteers to sign up weeks in advance, so they have plenty of time to ask for a day off work," director of development Melanie Rankin explains. "We are hopeful that residents will be willing to donate a day or two of work over the 10 weeks that we are in Fuquay-Varina."
The website is http://vhub.at/fuquayvarina2016. Volunteer sign-in and registration will take place on the job site by the construction staff on the day that you have signed up for. The work day begins at 8:00 am and generally runs until about 3:30 pm. You do not need to bring any tools with you, but it is recommended that you bring a water bottle, sunscreen, and bug spray.
A number of sponsors have already committed to the community build, including Bob Barker Company, John Deere Turf Care, and the Southwest Wake Coalition that includes 11 different church congregations. The project goal for this build is $65,000, however, so additional sponsors are still needed. If your company or family would like to contribute, please contact Melanie Rankin at Melanie.rankin@habitatwake.org or (919) 744-2422.
The recipient of the first home will be Maquida Armstrong. She has been a detention officer for the Wake County Sheriff's office for more than three years and has two beautiful daughters. She and her family will also spend 250 sweat equity hours helping build her own home. They are excited about making Fuquay-Varina their home in three short months!
In addition to the Lawrence Street build project, Habitat for Humanity will complete four other homes and exterior repair projects on 10 additional homes between May 22-28th. Over 100 current AmeriCorps volunteers and 25 AmeriCorps alumni will travel to Fuquay-Varina from all over the country to accomplish this task. Four qualified families have been identified for those four homes, and will help build them as well. This is a significant event for Fuquay-Varina because those 125 volunteers will need to be fed and lodged while they are here working. This is the same week as the WRAL Freedom Balloon Festival, and it is important to get support for these volunteers lined up very soon. For more information about this facet of the Build-a-Thon project, contact Melanie Rankin at Melanie.rankin@habitatwake.org or (919) 744-2422.