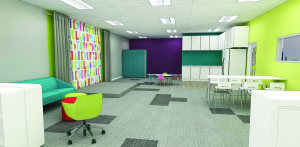 There's a magical new space coming to Raleigh for individuals with Down syndrome. GiGi's Playhouse is a nationally established series of Down syndrome achievement centers with 29 locations in North America. Jeanhee Hoffman, President of the Raleigh GiGi's Playhouse, saw her first GiGi's in Chicago where her brother Sam lives at home with their parents. Sam, who is 41 years old and has Down syndrome, served as the inspiration for Jeanhee to bring GiGi's to our area. And there are hundreds of local families who will benefit greatly from her efforts.
The center will serve individuals with Down syndrome from infant to adult, their families, and the community surrounding them. The playhouse will provide educational and therapeutic programs as well as job training for adults with Down syndrome—all at no charge to families! The programs will focus on all aspects of skill development including education, social skills, speech and language skills, gross and fine motor skills, after-school tutoring, career preparation, independent living skills, and more. GiGi's mission is to maximize self-confidence and empower individuals to achieve their greatest potential. Talk about something we can all get behind!
One such individual who just so happens to live nearby is Matthew Schwab. Matthew is an 18-year-old rising senior in the Occupational Course of Study program at Holly Springs High School. He has lived in our area his whole life and has been featured in Suburban Living before. Matthew was fully included in regular education classes until 7th grade when he began to participate in resource classes. Matthew lives with his parents and two younger brothers. He has worked at Chick-fil-A as a dining room host for 1 ½ years and has a girlfriend named Lucia. Matthew also volunteers at the North Carolina Museum of Natural Sciences. He loves to watch movies, learn about pre-history, dance, and is involved in theater at school and in the community. Matthew is proud that he has Down syndrome and loves to teach people about what it's like to live with Down syndrome. He plans to get a full time job after high school and live independently.
When Matthew was born his parents were surprised by the Down syndrome diagnosis and it took them, especially his mother, some time to adjust. When he was an infant and throughout his childhood, his mother longed for a place where she could take Matthew where no explanations were needed and, more importantly, where they weren't going to be pitied. Unfortunately, nothing like that existed 18 years ago. His mother learned about GiGi's about 10 years ago and feels so fortunate to be involved with the group of wonderful volunteers who are bringing GiGi's to NC. Even though they've missed the early years with a Playhouse, there are many more opportunities for Matthew to socialize with friends as well as continue his education and vocational training. GiGi's truly has so much to offer.
How can you get involved? The community has an open invitation to come and see what GiGi's Playhouse is all about! Also, GiGi's is actively looking for volunteers. If you are a student looking for volunteer hours, retired teacher, special needs professional or a community member that believes in helping others and would like to make a positive impact, GiGi's welcomes you to check them out.
The community has already supported GiGi's tremendously by generously donating over $178,000 to start the playhouse, but naturally, they will always need to continue fundraising. Numerous local businesses have donated both time and money to the cause. PMC Commercial Interiors has donated their design services and all of the furniture for the new center, making this a true community project. If your business is interested in supporting this amazing center and enhancing the community at large, contact GiGi's today. By helping individuals with Down syndrome achieve their greatest potential, together we are creating a more accepting and happier world.
For information on programs or volunteering please contact GiGi's site coordinator Caroline Moore at cmoore@gigisplayhouse.org
You're Invited
Grand Opening: Saturday, June 18th from 2-4PM
2887 Jones Franklin Rd., Raleigh
in the Swift Creek Shopping Center
http://gigisplayhouse.org/raleigh