Making Miracles Happen for Area Special Needs Families…
H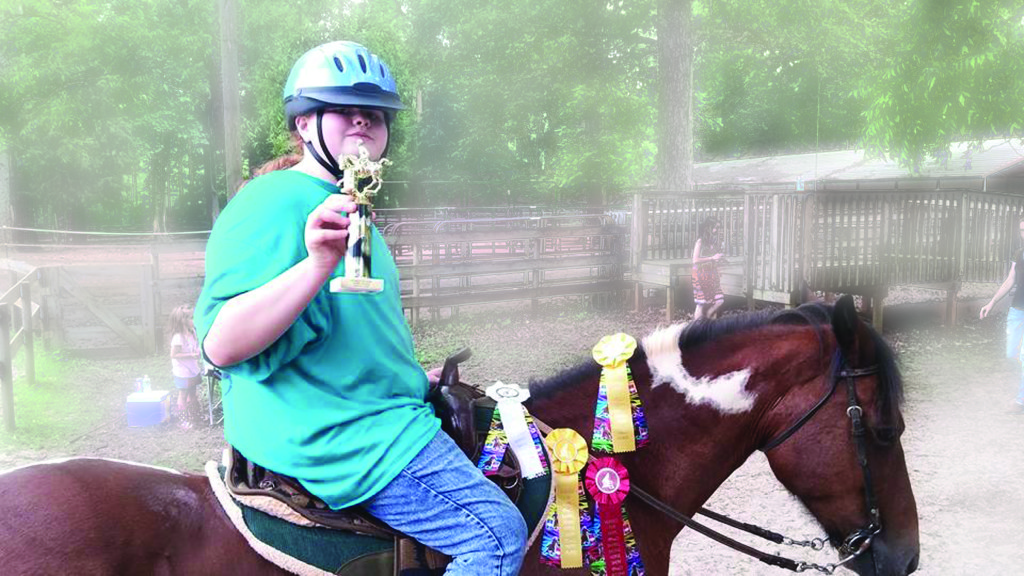 idden near the junction of the Wake, Harnett and Johnston county lines, at the crossroads of Banks and Fanny Brown is a place where magic and miracles happen every day of the year.  This inconspicuous destination is designated only by a small hand-carved sign next to a graveled opening in the treeline along Banks Road that reads "Horses for Hope".
When I first turned into the graveled drive and continued past that small wooden sign to the Horses for Hope barn, my youngest child, Rachel, was only ten.  I stood watch as the volunteers patiently introduced my special needs daughter to the horses, explaining what they were doing, fitting her with a safety helmet and helping her onto a saddled horse.  Rachel has a traumatic brain injury, mild autism and a rare genetic disorder and much like the famed "grumpy cat", she rarely shows any outward emotion.  But as the volunteers led the horse around the fenced ring showing her how to hold the reigns and spoke quietly to her, miraculously she smiled – a genuine smile that radiated from her booted toes to her flushed face!
Rachel had little core strength when she began therapeutic riding with Horses for Hope.  I had been told by doctors and therapists that working with horses had a healing effect on special needs children.  According to Abbey Zinn, Occupational Therapist, "Therapeutic riding is great for special needs children because it encourages increased core strength which makes gross motor movements and overall coordination easier.  The movement pattern of the horse also encourages improved gait patterns because the movement of the pelvis on a horse mimics the typical movement of walking."  I watched with each session as Rachel slowly began to learn new riding and grooming techniques.  She no longer needed the physical therapy that she had been doing for years.  Her therapists were astonished at her progress.  And even though I had ridden horses for much of my life, I had never witnessed that sort of healing before this experience.
After only two seasons of the therapeutic riding program, Rachel graduated to able-bodied lessons and now, a year later, even competes in barrel races!  She attended her 2nd Horses for Hope camp this summer and won ribbons for "Summer Camp Champion" and "Best Equestrian", among others!  My dreams for her to become more independent, develop self-esteem, begin to communicate with her peers and form friendships are finally being realized with the help of the kind volunteers and gentle horses at Horses for Hope.
"Horses for Hope is a place where God performs miracles on a daily basis, using horses to help those with special needs,"  says Gwen Roberts, founder of Horses for Hope.  Gwen's mother suffered with Multiple Sclerosis for 32 years and was the inspiration for Horses for Hope. "I remember seeing the desire in her eyes to be on a horse when my siblings and I rode," Gwen said, "but she could only sit and watch."   In 2003 with the help of her long-time friend Dawn Guenot, the God-given idea for Horses for Hope was conceptualized and brought to fruition.  Horses for Hope is now a non-profit 501(c)(3) organization established to provide therapeutic healing of the mind, body and soul using horses as a dynamic, interactive tool for individuals of all ages with special needs, including those who may suffer from physical or mental disabilities, physical or mental abuse or are financially deprived.  Their goal is to build hope, increase self-esteem, and to enhance the joy and inspiration for life in all individuals who participate in their programs.
Now in its 12th year, Horses for Hope serves over 45 special needs families during each of the Spring and Fall sessions with over 50 more currently on their waiting list.  Therapeutic horseback riding provides training in horsemanship for people with special needs (physical, mental, emotional, speech and learning), or for persons diagnosed with debilitating or life-threatening illnesses.  At Horses for Hope, therapeutic riding lessons are designed for each client's specific needs and focus on skills and exercises to enhance the person's quality of life.  This program provides those magical moments for many families in the Triangle and surrounding areas.  While listening to some of those families share about Horses for Hope, you hear similar stories of miracles happening in the lives of their children and loved ones.
Lauren Kovacs, a Horses for Hope therapeutic rider, shared in her testimonial, "I have had Multiple Sclerosis for half my life.  It robbed me of my balance, among other things.  I have done therapeutic riding for years.  It works core muscles you didn't even know you had.  Therapeutic riding helps tell your brain what a normal human gait should feel like.  Walkers, wheelchairs and horses are essential.  I am more wobbly during seasons where riding is not possible.  I always feel better on days after a session, even if I am very sore.  Riding is exercise, hard exercise.  The farm is calming.  The horses are fabulous for therapy.  It is spiritual in a way.  It also gives me something to look forward to.  Even with all the limitations I live with, horseback riding is something I can do.  Even a nuzzle from a horse can make your day!"  Lauren's full testimony and those of others is available at www.horsesforhope.org.
Christina Campbell's son, Dale, arrived at the magical barn 3 years ago after 8 years of traditional therapy.  "Dale was diagnosed with Autism, Sensory Processing Disorder and ADD."  As with most special needs families there is rarely any money left for extras, but much to Christina's surprise, Horses for Hope's therapeutic programs are free to special needs families.  "I volunteered to help before he was accepted into the program.  It is the least I can do in exchange for what they do for Dale and our family", Christina said, "Dale has flourished and become a social butterfly at the barn!  He loves to trot and is going to his first Horses for Hope camp this summer with able-bodied kids!"
Horses for hope not only offers therapeutic riding, but also a wide variety of equine related activities – all of which support the wonderful horses who serve the special needs public and help to keep the therapeutic riding programs free of charge – including able-bodied lessons (English, Western, Jumping and Barrel Racing), birthday rides, miniature horse activities, horse camps, and many volunteer opportunities.  "The Lord has blessed us with many wonderful volunteers," Gwen says, "but we are always in need of more!"
On September 12, 2015 Horses for Hope, located at 2909 Banks Road in Raleigh, will host a Fall Hay Day Fundraiser.  Families will have multiple opportunities to interact with horses and learn about therapeutic riding and other programs at Horses for Hope. Activities for the day include riding demonstrations, a grooming station, instructional trail rides, pony rides, miniature horses and hay rides. There will also be a silent auction, food, games, raffles, special appearances including Woody and Jesse, beloved Toy Story characters, and much more! Everyone is invited to join the fun from 11:00 am to 4:00 pm on September 12, 2015!
Horses for Hope has begun a $5 million fund raising campaign to purchase land and build new facilities including an indoor ring with special needs accessible activities, new sensory trails and stalls to accommodate the horses as well as enable them to continue to offer free therapeutic programs to the growing number of special needs families in the Triangle and surrounding areas year round.
For more information about Horses for Hope, the Fall Hay Day Fundraiser, to donate or to volunteer please visit www.horsesforhope.org or  e-mail them at info@horsesforhope.org.  Remember to also "Like" them on Facebook at www.facebook.com/HorsesforHopeRaleigh, to help them achieve their goal of 5000 or more "likes".