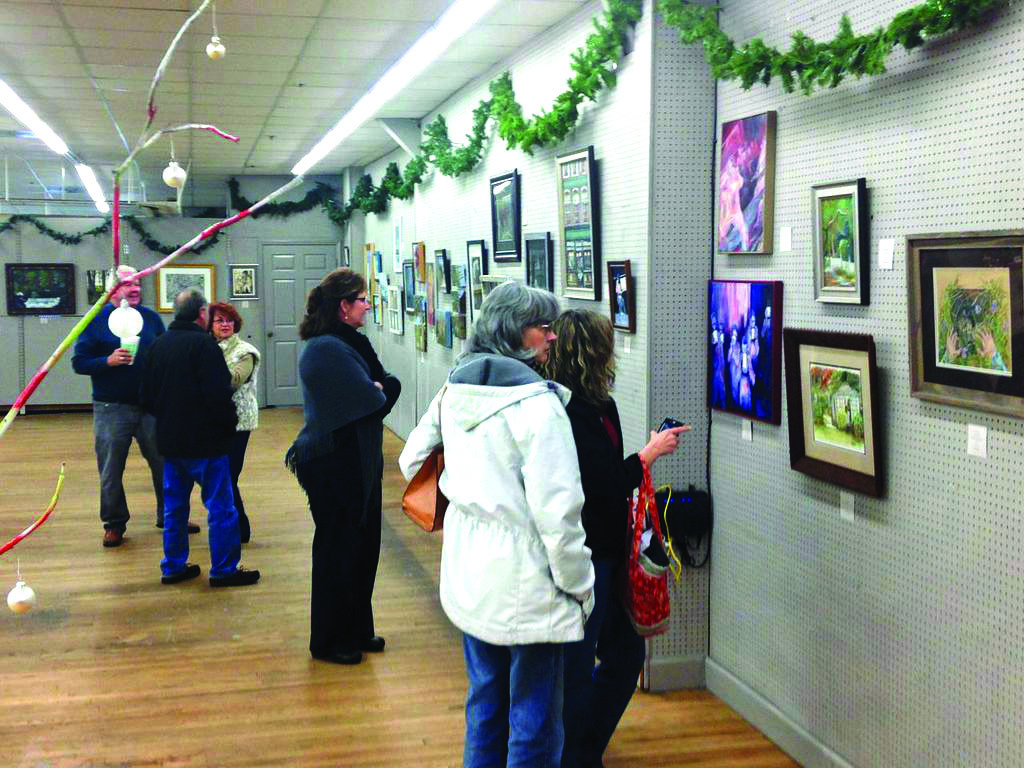 Established in 2009, the Arts Council began slowly and inauspiciously with just a few interested souls who wanted to promote an arts community that they knew existed but didn't get much attention. Over the last few years, and with the help of a couple other organizations who have arrived on the scene, the Arts Council has quietly and efficiently grown into an advocacy group that actively creates opportunities for local artists to show off their work and connect with the greater community.
"Now that we have grown into a fully functional organization of dedicated artists and art enthusiasts," Walker explains, "we have a full slate of activities and events that we feel helps local and regional artists find outlets for showcasing their work."
Walker took over from original executive director Denise Burnette in the spring of 2014, and has been happy to continue the work that Burnette started. "We began small, by offering an 'Art After Dark' event on the 2nd Friday of every month, and have evolved to offer several other activities that promote artists in different ways."
The Art After Dark event is held from April to September, with an Artist & Crafters Market, tours of businesses offering arts-related activities, and musicians/performers out and about to entertain, taking advantage of the good weather months. Many other organizations, like the Fuquay-Varina Downtown Association, the Friends of the Museums, and Artistic Expressions Gallery on Raleigh Street, now offer events of their own on the same night as Art After Dark, to capitalize on the activities being sponsored by the Arts Council. "It makes sense to plan events on an evening when there are already going to be a group of people walking around downtown," Walker explains. "Art After Dark is finally becoming a 'destination event' that people put on their calendars and make the regular trek into downtown areas to see what's going on every month. Instead of driving to Raleigh for First Friday, you can now stay right in town and get some of the same quality of entertainment."
Scheduling talent for Art After Dark has also gotten much easier over time. Walker is quick to say that musicians and artists now contact her well in advance of each month's event, asking how they can get involved. This is a huge indication of how well-known arts advocacy in Fuquay-Varina has become over the last few years of offering events and activities for the public.
With the growing popularity of Art After Dark, the Arts Council has added several other activities and events to their plate over the last couple of years. Their most popular program these days is the "Gallery Around Town," which partners local artists with local businesses that are willing to display artwork in their locations. Currently the "Gallery" program has local artists featured on the walls of ten locations, including one in Garner. "We have even gotten some interest from businesses as far away as Chapel Hill," laughs Walker. "It's a real testament to how popular our unique little program has become and how many people have heard about it already." This program is probably the Arts Council's biggest success so far because of the popularity and rapid growth it has enjoyed since board member Pinkie Strother and her daughter began organizing it. The Arts Council hopes to expand it into even more businesses in 2015.
Another annual event that has grown every year since its inception is the annual art auction. Its third auction used the theme "Score One for the Arts" out of respect for the three college football home games taking place on the same day. Every year has brought more variety to the auction lineup, and this year was no exception. "We had more media represented in this year's auction than ever before," Walker says happily. "Every year the word gets out further and earlier, and we had artists get involved that weren't involved last year. This year we had ceramics, jewelry and paintings, which was exciting." The 2015 Auction will occur during Celebration of the Arts (June 6th).
The holiday season wraps the year up with the Arts Council's Art Extravaganza, held at the old Stephens Hardware building on Broad Street for the past two years. The Art Extravaganza marries an art exhibition with a crafters fair and throws in some fun holiday activities for both young and old to make it an event worthy of any holiday enthusiast's "must-do" list. Pictures with Santa, a Kids Corner with crafts and activities, and lots of live music add to the merriment of the Holiday Artist & Crafters Market that certainly has a holiday flavor. The 2014 event featured a four-day long art exhibition of a wide variety of local artists' work. It was a special edition of the Art Council's 2nd Friday night "Art After Dark" concept, with all the activities under one roof, and the dates and times expanded to include evenings and weekend hours. Great for adults and kids alike, this event has something for everyone and is a great way to get into the holiday spirit.
The Arts Council has really come into its own over the last few years, with a board of directors that has grown and diversified and an executive director that oversees the myriad of details that is inherent with the number and quality of events and activities the organization oversee every year. "The most amazing thing about the Arts Council and all it has accomplished over the last few years," explains Walker, "is the tremendous amount of support we are finding for the arts in Fuquay-Varina. We had heard that we had a wealth of resources in our community, but it wasn't until we rolled up our sleeves and started planning programs and events that we realized how true that was."
The Arts Council enjoys wonderful partnerships with other organizations in town that all work together toward the common goal of promoting the arts in Fuquay-Varina. STARS Theater has partenered with them on numerous occasions, Artistic Expressions Gallery plans their Artist of the Month receptions for the same night as Art After Dark as an added attraction, and the town's community center has become a "home base" of sorts for the Gallery Around Town—displaying one painting for every artist in the program at the community center. The Fuquay-Varina Downtown Association has been a huge supporter of the Arts Council projects in multiple aspects, such as sharing their auctioneer at En Plein Air in April last year so the Arts Council could offer "Kids En Plein Air" alongside the adult version.
The biggest challenge for the Fuquay-Varina Arts Council at this point is just getting the word out about all their programs and events. Without a local paper, they have to rely on social media and word of mouth to market their activities. "We have so much to offer," Walker adds. "It's kind of a shame that more people don't know about us." The organization plans to continue offering events and activities that bring people out into the community to enjoy and support the arts, and Walker hopes that the word will continue to grow about all that they do to keep the artist community in Fuquay-Varina to share its tremendous talent.
Artists who would like to participate in the Art After Dark Fridays starting in April, or local residents who would like more information about the Fuquay-Varina Arts Council and its upcoming schedule of events can contact Kellie Walker at fvartscouncil@gmail.com or visit fvartscouncil.org. The Fuquay-Varina Arts Council also hosts public meetings at Stars Theater the last Wednesday of the month at 7:30pm and all those passionate about the arts are encouraged to attend.