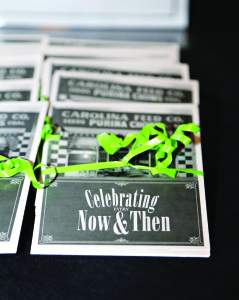 Our Outstanding Citizen of the Year award was given to Mrs. Martha Moore for her years of dedicated service to the community of Fuquay-Varina, specifically the stewardship of the Pine Acres Community Center and her active participation on the Fuquay-Varina Arts Foundation. We celebrate all these individuals and businesses, without whose service and assistance the Chamber could not be all that it is.
The Chamber is actively planning its next three events. These are community events that all residents can get involved with and enjoy.
SAVOR Fuquay-Varina
The 3rd Annual SAVOR Fuquay-Varina event will be held on Saturday, April 11th from 3:00-7:00 pm at the Bob Barker building on N. Main and Church Streets. This event showcases the incredible creativity of our local restaurants, taverns, and caterers as they compete for culinary prizes in a number of categories. Fresh local food will be provided to attendees in tasting portions to give people a snapshot of the quality of foods available in our immediate area. Along with the food tasting, there will be a beer and wine garden, a live auction of painted chairs (A Chair Affair), great entertainment, and a $5,000 reverse raffle. Tickets to enter the reverse raffle are $100 each. These tickets include all the activities at the event (food, auction, etc). Tickets for just the food, beverage, and silent auction are $25 and available online until April 9th.
For more information about this event, check out http://bit.ly/18Bxr4T.
Run the Quay Race Events
Our 11th Annual "Run the Quay" road race, featuring a 5K, a 10K, a 15Quay novelty race, and a Children's Fun Run, will be held on June 6th in downtown Fuquay-Varina. The 5K and 10K wind their way through charming neighborhoods in the southern tip of Wake County. The Fun Run for 3-10 year olds is held at the middle school athletic field. Children can choose between a 100-year dash and a 1 mile run.
We are excited to announce that Run the Quay 2015 will be part of a Triangle-wide road race series sponsored by Precision Race and Omega Sports. This will provide regional advertising reach and awards sponsorship by Omega Sports. This year's event will begin at the Fuquay-Varina Presbyterian Church on Ennis Street. The 10K will begin at 7:00 am, the 5K will begin at 8:30 am, and the 4rd Annual Children's Fun Run will begin at 9:30 am. Registration is now open at www.itsyourrace.com. Watch our Facebook page (Run the Quay Race Events) for money-saving promotions between now and June!
"Core Connections" Business Expo
The Fuquay-Varina Chamber of Commerce will be hosting its fifth annual "Core Connection" Business Expo at the Fuquay-Varina Community Center on Thursday, August 27th. This Expo celebrates the wide variety of new and existing businesses that have recently made southern Wake County a mecca for new business development. Over 100 local businesses are represented at the event, which includes a health & wellness section and local restaurants serving samples. This event is free to the general public, and attracts over 1,000 attendees who win door prizes and drawings while they see what the local business community has to offer. For more information on this event, check our webpage at www.fuquay-varina.com/events/2015-business-expo.
We'd like to thank all the presenting sponsors who have signed on to support Chamber programs and activities for 2015. These members of the Chairman's Circle will have their logos prominently displayed at all our major events throughout the year. We appreciate their commitment to a strong and active Chamber of Commerce and all that means for the business community in Fuquay-Varina. There are additional events that need presenting sponsors and plenty of room in the Chairman's Circle for 2015. Companies interested in getting involved at this level can call Executive Director Linda Frenette at (919) 552-4947.