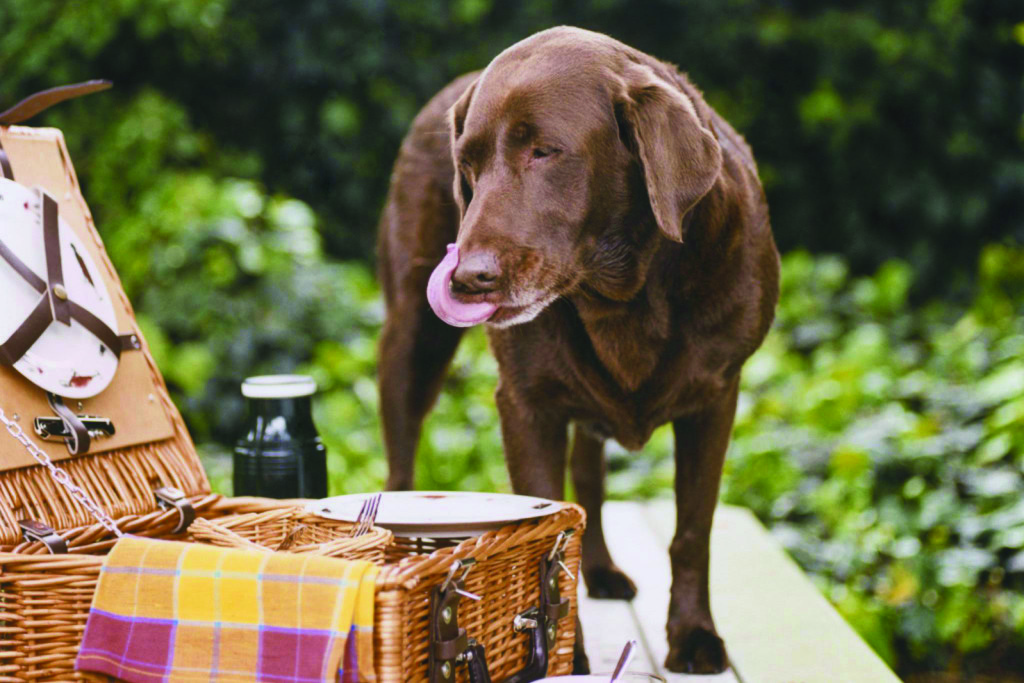 In many ways, pets are a lot like children. Many of them are curious, adventurous, and sometimes mischievous. Life would be so much easier if our pets could read and stay clear of items labeled "Toxic!" or "Warning." If only they knew the plate of brownies left on the counter and the pack of sugar-free gum in the backpack could hurt them. We wouldn't leave our small children unattended in the home all day, but we frequently venture off to work, leaving our pets to their own discretions.  Everyone would agree, baby-proofing the home is an integral part of keeping our children safe. Bearing this in mind, we should all take steps to protect our furry friends from common household threats. To make sure you're not one of the 165,000 unlucky callers to the ASPCA Poison Control Center this year, consider and eliminate these potential toxic threats from your home today.
People Pills
This is a biggie. One of the most common reasons people call animal poison hotlines is to report a pet has accidentally gotten into or consumed its owner's medication.  A dropped pill on the floor could seem like a playful distraction to a pet. Surprisingly, the coatings on some medications are actually very attractive and tasty to pets. A childproof bottle poses little obstacle to a dog who thinks its contents may be something yummy.
Pets consuming heart medications and ADHD drugs comprise most of the calls to animal poison hotlines, but all human drugs  could  potentially harm your pet, including nonsteroidal anti-inflammatory medications (NSAIDS like aspirin and ibuprofen), antidepressants, acetaminophen, cancer drugs, decongestants and other drugs.  To prevent this, keep all medications, creams, vitamins, and supplements in containers and in a cabinet away from your pets. Be vigilant about finding and disposing of any dropped pills.
Acetaminophen, the main ingredient in Tylenol, is a very dangerous drug for cats and consumption frequently is fatal. Never administer acetaminophen to your cat.
As a side note, I always advise my clients to never administer an over-the-counter medication to their pet without consulting with their veterinarian. A simple and well-intentioned action can have dramatic, and sometimes fatal, consequences.
People Food – Especially Chocolate, Grapes, and Raisins
Most everyone has heard of the well-publicized risk chocolate poses to our pets. Dark and baking chocolate is of particular concern. Chocolate  contains substances called methylxanthines, which can cause hyperactivity, excessive thirst and urination, seizures, and even death. Always consult with your veterinarian regarding accidental chocolate consumption to determine if therapeutic steps should be pursued.
Pets should also avoid grapes, raisins, avocados, or foods which contain these items. Grapes and, in particular, raisins are highly toxic, frequently causing kidney failure in those who consume them. The exact amount to cause toxicity varies in different individuals.
In large quantities, garlic can be toxic to dogs. Garlic causes damage to red blood cells and can result in anemia. There is an old myth that giving a dog garlic will ward off fleas, which is not true and just makes them smell like leftover Italian food.
We all are guilty of giving our pooches the leftovers and human food treats, right? Indeed, this is common practice in many households, but the fact is there are many foods which pose risk to our pets…and the list seems to be growing. Your pets should keep away from foods such as onions, onion powder, alcoholic beverages, yeast dough, coffee grounds & coffee beans, salt, macadamia nuts, tomato, rhubarb leaves and stems and anything with mold growing on it (duh). I realize the number of dogs receiving coffee beans or rhubarb stems for treats likely is zero, but a lot of these items are found in the trash cans in a lot households. You can limit accidental exposure to most of these items by simply restricting access to the garbage and trash cans.
Xylitol
Xyli-what? This item is probably in your house and you didn't even know it. Xylitol is a sugar alcohol used in gum and toothpaste, and as a sweetener in other products, including cough drops and mouthwash.  Xylitol is highly toxic to dogs.  A dog which consumes xylitol can experience dramatic and acute onset depression, loss of coordination, and seizures. Xylitol toxicity has been associated with liver failure and death.  Symptoms can be seen within 30 minutes of ingestion.  If you carry a purse or backpack with xylitol products, don't keep it on the ground or floor. Keep toothpaste and mouthwash out of your pet's reach.
Lillies
You might have heard that poinsettias can be toxic to cats. This plant is not without risk to cats, but the overall toxicity threat is generally over exaggerated. However, another common household plant can be exponentially more dangerous and toxic. Lillie are profoundly toxic to cats and should never be in a home with cats…EVER! Kitties are attracted to the greenery, but lunching on a lilly or lilly-containing bouquet could lead to kidney failure and death.
Certain Flea & Tick Products
Insecticide poisonings result in more than 30,000 calls to animal poison hotlines annually.  Many of the calls involve inappropriate application of a flea and tick medication on the wrong species of animal. Using a dog flea collar or topical flea and tick solution on a cat is an example of inappropriate application.  Such an error can be associated with seizures or even death for the cat. Products containing a common insecticide, Permethrin, used in dogs, potentially can be lethal to a cat. There are a plethora of over-the-counter topical flea and tick medications readily available at large retailers. Always consult with your veterinarian regarding use of over-the-counter flea and tick medications. There are newer generation, FDA-approved pharmaceutical products, for prevention of fleas and ticks. Their safety and efficacy are superior to many items found over the counter. Again, always consult with your veterinarians before using a new flea and tick medication.
Cleaning Supplies, 
Air fresheners, Etc.
Consuming or inhaling common household cleaning and laundry room supplies can be harmful to your pets. Keep in mind, harsh cleaners also pose a risk to you, too. Some cleaners, when mixed, can result in formation of gases which can be toxic to pets and people.   Bleach, detergents, toilet bowl and drain cleaners may contain chemicals that can be harmful to your dog. Toilet drinkers beware. Make sure the lid to the toilet is always closed after use, and seriously consider switching to environmentally-friendly cleansing alternatives if available.
To improve indoor air quality, consider limiting use of scented candles and air fresheners, which can contain phthalates, a class of hormone-disrupting chemicals.
Liquid pot-pourri may contain detergent and essential oils, both of which pose a toxicity danger to pets if swallowed. Pets sometimes can't resist the temptation to sample the liquid from a simmer pot or lap it up from a spill. Be diligent in cleaning up spills and place the simmer pots in an inaccessible location to avoid accidental exposure.
Rodenticides
Your quest to kill vermin seeking shelter in your home could have a dramatic influence on the health of your pet. These rat and mouse poisons work by inhibiting the activity of vitamin K and blocking the synthesis of important blood clotting factors, causing rodents to bleed to death internally. And, they work in the same manner in your pets, and signs of ingestion may not be apparent for several days. Call your veterinarian immediately if you suspect your pet may have consumed these products. I generally discourage use of these products in the home, especially where young children or pets reside. The consequences of consumption are profound.
Glow Jewelry
I mention this because, if you have children, you likely will have glow sticks or glow jewelry in the home at some point. And, if your children leave the glow items lying on the floor, like mine do, then your pets will potentially come in contact with these items.  Glow jewelry usually isn't toxic to pets, but pets' tendency to bite into glow-in-the-dark bracelets and necklaces often leads to panic situations at home. These products taste horrible and can frequently cause excessive salivation. If exposure occurs, try to wash the pets mouth with water and provide a tasty pet treat to eat to get rid of the bad taste.
Lawn Treatments & Insecticides
The consequences of exposure to chemical weed and bug killers can be immediate, or they could take years to manifest.  A prior study published in Environmental Health found dogs with malignant lymphoma were 70% more likely to live in  homes with professionally-applied chemical lawn treatments. Dogs with the serious disease were also 170% more likely to reside in homes where owners used chemical insecticides to address pests in the home.
Chemicals used on lawns and gardens, such as fertilizer and plant food, can be easily accessible by a pet. Exposure can prove to be fatal in some instances. In general, it's best to limit your pet's access to the yard and garden during, and for a few days following, application of insecticides and fertilizers.  Educate yourself with the ingredients in products you routinely use, and always inquire with your landscape professional regarding the risk of the products they use.  Use of these items understandably could have a dramatic influence on our health as well.
Never use canned sprays anywhere near your dog or cat's eating area.  Upgrading old pesticides to newer generation, less toxic products is recommended. If you use a professional exterminator, check with them about the products they use and if they pose any risk to your pets. The safest way to avoid exposure is to take your pet to a boarding or pet daycare facility until the fumes have dissipated.  Four hours of avoidance is a recommended minimum, eight hours is the safest bet.
Paint
Eating paint is bad, we all know that, but pets don't always appreciate the risk of taking a few sips from an easily accessible paint can. It can be difficult to know the ingredients of popular paint blends, but it's best for your pet and your family to choose no -VOC blends. Avoid products which make "antimicrobial" or "mildew fighting" claims – these could contain toxic chemicals linked to thyroid damage. When you're finished painting, store your paint in a detached building or garage, or in a secure area.
For more information on other sources of pet poisoning, including a plant list, visit the ASPCA Poison Control Center website. The ASPCA website (www.aspca.org/pet-care/animal-poison-control) describes the potential toxicity of more than three dozen foods, medications, and household products as well as more than 1000 plants.  If you suspect your animal may have ingested a poisonous substance, call the Poison Control Center immediately at (888) 426-4435 or contact your veterinarian. If you aren't sure if something is dangerous to animals, assume it is until you have a chance to confirm otherwise with your veterinarian.
If your pet has managed to eat something dangerous, be diligent in monitoring the pet for changes in behavior. Lethargy and agitation are common responses to toxin ingestion. Excessive salivation may also occur. Vomiting can be seen. Ultimately, symptoms depend entirely upon what and how much was consumed.
If you notice anything out of the ordinary, the first response should be to contact your veterinarian and bring your pet in for an evaluation. DON'T WAIT!!
Waiting may be the difference between life and death. Never induce vomiting in your pet at home unless instructed by a veterinarian. Some toxins can cause more damage on their way back out by damaging the esophagus or can be accidentally inhaled by a distressed pet.
If you think it is an emergency, take your pet to the veterinarian. It is always helpful to take the label or wrapper from the item consumed with you to the doctor's office. Alternatively, you can call the poison control hotline. They can sometimes determine if you can treat your pet at home or determine if you need to seek immediate medical attention.
The ASPCA Poison Control Center is well equipped with many qualified veterinarians on staff to field questions from concerned owners. Post the number on the fridge for easy access. A fee applies for the consultation, so have your credit card available.
Not all signs of a toxicity show up immediately. Symptoms can be delayed for hours or even days. Seek medical help if you are remotely concerned that your pet may have been exposed to or ingested a toxic substance.
Lastly, a reminder for owners who have older pets. If you are bringing a new pet into the home, you must be extra vigilant. A new or young pet, especially a young puppy, will get into things your old pet does not. Always pet/puppy proof the house in anticipation of the new arrival.
Dr. Scotty Gibbs is with Hilltop Animal Hospital in Fuquay-Varina