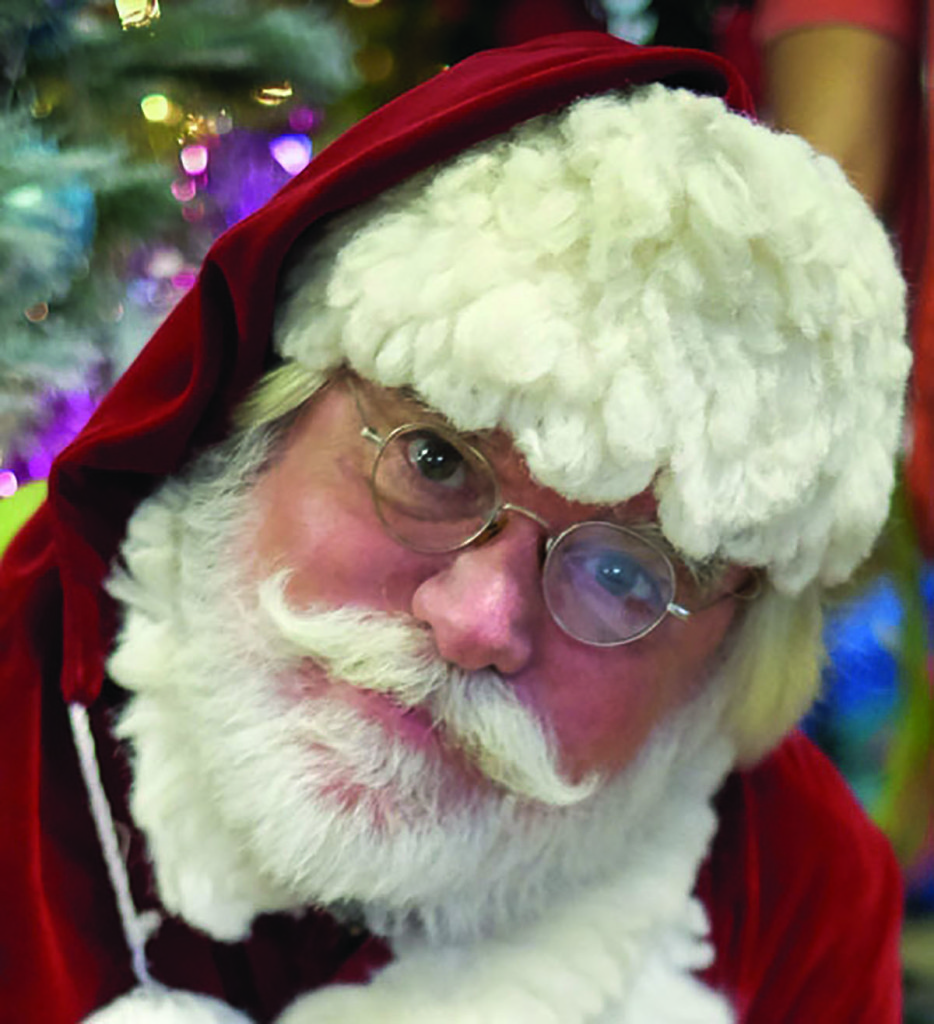 Every issue of Suburban Living tries to highlight a local "hometown hero" – usually a veteran, a citizen who has given a lot to his or her community, or someone who has done something unique or timely. In planning this holiday issue however, we realized we have someone here in the 'Quay' who has all of those qualities – and is known in our community for characterizing someone near and dear to our hearts at Christmastime!
David Morris was born into a military family in San Diego in early 1949 and traveled with his family for most of his childhood. He started school in the Philippines, and never spent more than one year in the same school throughout much of elementary school. After his dad retired from submarine service, his family retired to their home state of Arkansas, where Dave went to junior high and high school and three (not serious) years in college. In a sneak peak into one of his favorite hobbies, Dave spent the summer of 1969 getting certified and working as a Volkswagen mechanic in Texas. The summer after, he and a cousin spent 10 weeks traveling the country in an old VW beetle on $170 – putting over 15,000 miles on it and seeing all the nooks and crannies of the United States.
After that trip, in the fall of 1970, Dave went active with the United States Navy. Sticking with family tradition, he did a four-year tour during the Vietnam War era on nuclear submarines as a non-nuclear machinist mate. "You have to understand that there were non-nuclear machinist mates and nuclear machinist mates," Dave explains. "We did similar things but the nuclear machinist mates were responsible for the space on the sub that was dedicated to nuclear functionality, and we did everything else."
After his four-year stint with the Navy, Dave stayed in Connecticut working as a defense contractor for ship-building companies near the base where he had been stationed. Finally mature enough to handle it, and with a wife and child to support, Dave went back to school to finish his college education at the University of Connecticut, where he earned a BS in Accounting. This time he was focused and determined to finish the program in 2 years, so he doubled up on classes, took summer classes, and often took prerequisites along with their follow-on courses to make sure he could get everything done.
After college, Dave worked primarily with General Dynamics on financial systems, with a brief break in service to be the project manager for the design and implementation of the maintenance management software system for the New Jersey Turnpike with a Connecticut consulting firm. When peace broke out in the early 1990s, many of the jobs in the defense contracting sector dried up and the Morris family decided to make a change. "My sister and brother-in-law lived in a little town in North Carolina called Fuquay-Varina," Dave shares. "We had visited several times and loved the small-town feel, so we took a chance, packed our bags, and moved south to try our luck here in the South."
Dave worked a couple of corporate jobs before starting his own business, Innovative Connections, in 1995. That business saw ups and downs due to the various recessions and economic downturns over the years, but with a new business partner, was revived a few years ago as Net-Wired, Inc. which Dave and his son Aaron still run today.
The bigger story here, however, is how entwined Dave has become in his adopted community and the legacy he has woven within it as a result. After he became a business owner in Fuquay-Varina, he was sponsored into the Fuquay-Varina Rotary Club by Bob Barker, and became involved in the fabric of the community through service projects sponsored by that club. He also became involved in the local business community through the Fuquay-Varina Chamber of Commerce and served on it's board of directors for a number of years. In 2008, he helped spin off a second, morning Rotary Club (Downtown Fuquay-Varina Rotary Club), of which he is still a member. He has served as President of both clubs.
Through Rotary, Dave met a gentleman named Vitality Bedroznov, who promoted and sponsored troupes of Russian performers that traveled the country, but called Fuquay-Varina home. As Dave got more involved with the performers and traveled with Vitaliy to various parts of the country, they worked with local arts councils in many different places. They felt a formal arts council that promoted the expression of artistic talent was something that was needed in Fuquay-Varina, so they worked together to create the Fuquay-Varina Arts Council.
"There had been other groups in Fuquay-Varina that tried to do what we envisioned, but we created an organization that was a true 501c(3) entity with tax-exempt status," explains Dave, "and I served as it's President until we were able to grow the organization to the point where it could attract a functioning board of directors and a professional executive director." Dave continues to stay involved with the group, although in a less active role.
His involvement in the Arts Council, however, spawned an activity that has created a secondary persona in Dave's world. "Vitaliy and I were looking for ways to raise money for the Arts Council," Dave shared, "so we decided I would dress up as Santa Claus and we'd sell photos with Santa over the holidays." It started off as just a fund-raising activity drafted in the spur of the moment, but over a couple of years, the duo added some sophistication to the project by offering photos on flash drives for their customers' instant gratification. More importantly, the Santa lifestyle grew on Dave and began to draw him to events other than photos with Santa. He scheduled special appearances and was asked by the Fuquay-Varina Chamber of Commerce to be the Santa in their Christmas Parade. He has cheerfully played that role for the last 10 years!
In 2014, Dave was helping Cindy Verian, owner of Stars Theater and Arts Center, with a project when she asked him if he could act. His answer? He laughed and answered, "I've been acting all my life!" So, she invited him to audition for the role of Santa in their upcoming town-sponsored production of "Miracle on 34th Street." To help prepare for the part, Dave began growing his own beard. He had been using a fake beard previously, but realized that growing a real one was easier and more fun. It also made him look more real for all his excited young fans around town. "Kids are pretty savvy these days, and they know that Santas with fake beards aren't the real thing," he says. "When they see me, you can see them checking the beard out and really wondering if maybe I'm the real Santa. It's fun to make them wonder."
The production of Miracle on 34th Street was such a big success, with sell-out crowds for every performance, that the community looked forward to it becoming an annual tradition. But, unfortunately, Stars Theater closed to make way for the new Fuquay-Varina Arts Center, and the plans for an encore performance of Miracle on 34th Street were put on hold for a couple of years. Coincidentally, however, Dave was asked to participate in a unique performance opportunity in Pittsboro that is in the same vein. After renovating their historic courthouse, the Pittsboro Business Association staged a performance of the courthouse scene from Miracle on 34th Street in the renovated courtroom with a real judge in 2016. Dave was the perfect choice to reprise his role in a production that was so popular that it's being planned again this year.
Dave is already sporting a pretty decent beard in preparation for his many events as Santa, and is looking forward to donning his red suit and sharing his alter ego with the Fuquay-Varina community for another holiday season. "Last year, I went to Fort Bragg for an event with the 3rd Battalion Special Forces unit," he shares, "which, as a veteran, was near and dear to my heart." That event is being planned again for December, and his calendar is filling with more engagements every year. When you pick your spot along the parade route this year, make sure you wave to Santa and appreciate his dedication to service and making our community a better, more enchanting place!