Serial entrepreneur and U.S. Army combat veteran Scott Quilty (far right) became captivated with the town of Fuquay-Varina nearly 20 years ago. As a newly-minted soldier, he was assigned to Fort Bragg. While making the drive from Fayetteville to Raleigh-Durham Airport to hop a flight to New England, he stumbled upon Fuquay-Varina. 
It was love at first sight.
Q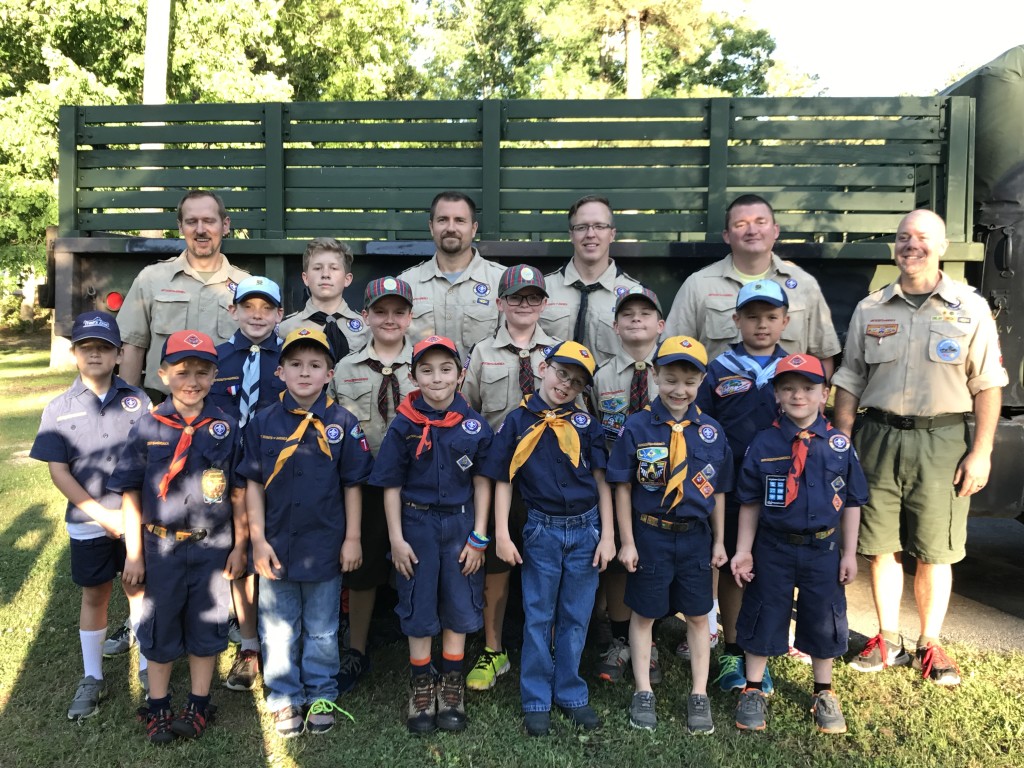 uilty marveled at how much the community reminded him of his hometown of Francestown, New Hampshire. "Downtown Fuquay-Varina has a charm to it," says Quilty. "My favorite place to stop was at Cooley's when they were right downtown. They had the best burgers around."
The quaint town left quite the impression on the then 19-year-old private. "I decided back then that this would be a great place to raise a family," he says.
A decade later, Quilty had the opportunity to turn his dream into reality. His Army career was cut short by a roadside bomb in 2006, and during his recovery period at Walter Reed Army Medical Center in Washington, D.C, he married his longtime sweetheart Dora — an occupational therapist in the Army. In 2009, she received orders to Fort Bragg, so they loaded up their car and their six-month-old son Ian and headed for North Carolina. With help from Krista Abshure, an Air Force veteran- turned realtor at Abshure Realty Group, they quickly bought and settled into their home in the rural area outside of Fuquay's economic center.
After transitioning out of the military, Quilty enrolled in the Executive MBA program at UNC Kenan-Flagler Business School to build his business acumen and position himself for a successful entrepreneurial career. He quickly became a fixture in the local startup scene, soaking up every chance to network with and learn from North Carolina's best and brightest business leaders while simultaneously growing two thriving companies of his own.
TentED — a nonprofit co-founded by Quilty and fellow Army veterans Zack Bazzi and Patrick Hu — works to fund projects that advance access to education for children displaced by war, with a specific focus on aiding refugees in Northern Iraq.
MedScribes — co-founded with Dr. Abhi Mehrotra, a fellow UNC alum — supports physicians with scribe services in emergency departments, hospitals, and outpatient clinics across North Carolina. Doctors spend 50 percent of their time on non-medical tasks. But through MedScribes, clients like UNC Health Care, WakeMed, and UNC REX Healthcare are able to relieve providers of the burden of paperwork, after-hours charting, and anything else that gets between them and their patients.
In just two years MedScribes has grown to employ 35 scribes in 11 facilities across the greater Triangle area, from Clayton to Hillsborough — something that reflects positively on the North Carolina economy. Hospitals and medical practices that hire one scribe enable their doctors to see an additional patient a day, which covers the cost of the service. A doctor that is able to see two additional patients a day is actually able to turn a profit while improving patient care. On average, MedScribes has enabled doctors to see between 5 and 8 additional patients every day.
Quilty is eager to bring MedScribes to medical facilities in the Fuquay-Varina community while remaining steadfast in his commitment to bettering the local economy and supporting fellow small business owners. He forgoes a traditional office space in favor of a desk at Fuquay Coworking, and nearly all of the company's operational needs — from printing to graphic design and accounting — are fulfilled by companies based in Fuquay-Varina.
Through his involvement in the community, Quilty became acquainted with Dawn Russell, coordinator of Leadership Fuquay-Varina. The nine-month program is designed to help local business owners hone their leadership skills and learn more about the functions of town government and the local systems that create community. The goal of the program is to grow a sustainable, diverse network of citizens who will champion the future success and growth of the Fuquay-Varina community.
"The Leadership Fuquay-Varina program gets participants to ask themselves, 'How can I step up and lead in my community?'" explains Quilty, one of eight working professionals selected to participate in the 2017 cohort.
The program turned out to be a perfect fit for Quilty. He views business as a tool for driving change and making a positive impact on society — values he says took root during his early years as a Cub Scout. Participating in the Scouts program has become somewhat of a family tradition.
"I was a Cub Scout as a kid, and both my father and grandfather were Boy Scouts," says Quilty. "My son, Ian, did not like soccer very much and did not seem interested in baseball or basketball. My wife and I were looking for an activity for him that still involved teamwork but had less pressure and noise from the sidelines. When I saw that the American Legion Post in Fuquay-Varina sponsored a Pack, Ian and I went to check it out. He took to the activities and the other boys immediately."
With Ian on board, Quilty volunteered as a "Wolf" Den Leader and led the weekly activities for a group of second-grade boys in Cub Scout Pack 75. "As I committed more and more hours as a Den Leader, I began to see that while Cub Scouts was centered on the outdoors and got the boys away from 'screen time,' there was also an ethical foundation to the curriculum that I found refreshing," he says.
Quilty immediately drew parallels to the Leadership Fuquay-Varina curriculum and his growing roles as a leader in the community and in business.
"In Scout Law, which every Cub Scout memorizes, we ask the boys and leaders alike to be trustworthy, loyal, helpful, friendly, courteous, kind, obedient, cheerful, thrifty, brave, clean, and reverent," he says. "I began to weave these concepts into each of our activities."
That meant asking his Scouts to think about things like how they could be thrifty — use resources wisely — and courteous at home and at school. For his second graders, being thrifty could mean shutting the door to keep the air conditioning inside, or not wasting water or toothpaste when brushing their teeth. Being courteous could mean going the extra mile to make sure all of their peers are included in activities.
"These are small things, yes, but if we can get boys thinking about those small things early, then the right answers to the really hard questions they will face as young adults might not be so hard to figure out," says Quilty. "In this way, all of the hiking and camping that the Scouts do becomes a means to an end — helping boys make moral and ethical decisions for the rest of their lives."
As Quilty's time in the Leadership Fuquay-Varina program drew to a close, another door opened. When Chris Trautman, the Cubmaster of Pack 75, announced that he would be moving up in the next year as his son aged-out to Boy Scouts, Quilty stepped forward to lead the Pack.
"That is the parting challenge of Leadership Fuquay-Varina — to take the skills and knowledge imparted by the program and use it to be a more effective leader in your community," says Quilty. "Some graduates join nonprofit or town advisory boards. Two graduates from my class went on to start small businesses. I found a way to lead in my community as a Cubmaster and, together with a group of committed parents and Scout leaders, try to create fun and educational experiences that the boys will remember for years to come."
Whether leading his Pack of Cub Scouts, mentoring fellow veteran-turned-business owners as Entrepreneur-In-Residence at BunkerLabs RDU, or sharing his knowledge and expertise as a guest speaker for entrepreneurship classes at UNC Kenan-Flagler and UNC Gillings School of Global Public Health, Quilty's approach remains focused on a similar message.
"Go out and take over the world, by all means," he says. "But consider how to serve your community. Use your skills to make an impact — to be an asset locally and globally."