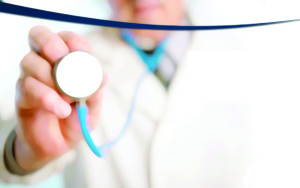 Participating in sports provides many benefits to children of all ages.
Besides helping them stay active and promoting good health, sports also help teach children time management, teamwork and managing their emotions through success and defeat.  As a healthcare provider, I encourage parents to help their children find the sport that is right for them so their children can reap all of the many benefits sports offer.
I also recommend to parents that before their child begins any new sport, a sports physical be completed; these physicals are also called pre-activity or pre-participation physicals.   While some people perceive sports physicals as only necessary for the really serious athletes, these physicals should be taken seriously for any person of any age who is going to undertake a sport.
Why is a sports physical an important first step in getting your child engaged in sports?
Through a sports physical, you and your healthcare provider can ensure that your child's body is ready for rigors of the particular sport.  Individual sports put particular stress on specific parts of the body, and a medical professional can ensure there are no underlying issues that would prevent the student athlete to participate fully.
Unfortunately, we've heard the stories of an underlying health condition in a child athlete being found too late- such as a heart condition that was found after the child collapsed while playing football.  What we do not often hear are the thousands of cases where a health condition was identified and aptly treated before the child started a sport; those stories don't make the news.  Those children go on to play their chosen sport or select an alternative that is less risky given their specific health condition and garner all of the many benefits sports participation has to offer.
What can you expect during your child's sports physical?
A sports physical is a check-up to assess your child's overall health and physical fitness relative to the sport your child intends to play.  It is not the same as an annual physical and should not replace your child's annual physical.
During your child's sports physical, your healthcare provider will take special care to discuss the sport your child will be playing and determine if it is safe for your child, based on your child's current health, physical fitness and family medical history.   As appropriate, your healthcare provider will order appropriate tests which may include labs, x-rays or other tests specific to particular health conditions.  As well, your healthcare provider will talk with you about nutrition needs your child may have as a result of this new activity level and educate you about potential injuries that your child may be at higher risk of as a result of the sport.  For example, if your child plans to play football, your healthcare provider may discuss concussions and baseline testing.
Where is a sports physical done?
Your child's sports physical should always be completed by a licensed healthcare provider, including a doctor (MD or DO), physician assistant (PA) or nurse practitioner (NP).  Your child's primary care provider is one option or you can opt to visit a walk-in medical clinic.
How much does a sports physical cost?
If you have healthcare insurance, you should check with your insurance carrier to determine how much a sports physical for your child will cost and if a co-pay applies before scheduling your appointment with your child's primary care provider.
Where can parents find more information?
The American Academy of Pediatrics and the American Academy of Family Physicians provide helpful information on sports physicals as well as other health information for children.