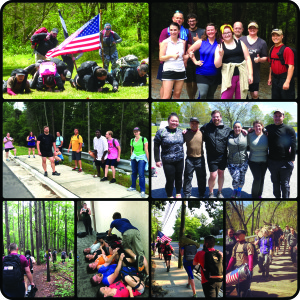 There are many ways to get physically fit – gym memberships, running groups, bootcamps, crossfit, P90x, yoga, and so on. There are as many ways to do it as there are people trying to do it! But a new concept for Fuquay-Varina is something that has been generating a lot of interest over the summer months, so we felt we needed to find out what it is all about.
Have you been driving along through the streets of town and noticed a rag-tag group of individuals with backpacks walking with an American flag? Have you been one of the many vehicles that honked at that group with patriotic pride or just to say "hey, how cool is that?!" Have you wondered what they are doing and what possesses them to hike around with an American flag three times a week?
Well, ladies and gentlemen, you are witnessing a Spearhead Pathfinder team in training – a group of individuals who are using military-style fitness training and team-building to accomplish a wide range of personal goals… but doing it together as a group. What is Pathfinder training, you ask? Pathfinder training is a 12-week program designed to prepare individuals and teams for GoRuck competitions. And GoRuck competitions are military-style treks with backpacks combined with drills that test endurance, teamwork, and toughness.
Pathfinder teams use methods similar to military training to honor veterans and military servicemen and women in a way that encourages team-building, collaboration, and communication. All training is done with rucksacks (backpacks) that are specially designed to hold weights, water, and assorted additional training materials. Although the Pathfinder training program is an individual commitment by each team member, the group works together several times per week to complete challenges and work as a group to develop skills such as leadership, basic physical fitness, strength training, stamina, and more.
The concept of GoRuck eventing is not new, but the organized structure of training for GoRuck events began in 2013 in Charlotte as a group of dedicated GoRuck enthusiasts began military-style training workouts as a team for the first time. Beginning with one group workout per week, the group quickly realized the benefit of working out together, and how that impacted the workout process. Within a few weeks, the group began working together three times a week, and the idea of the Pathfinder 12-week training module was born. Since then, the mission of the program has developed into: "We believe in bridging the gap between civilians and veterans through shared experiences and team building. We believe in sharing stories over a cold one after work or while rucking in the early morning. We believe in America and proudly displaying Old Glory at every event. We believe in serving the less fortunate in our communities by cultivating resources and uniting like minds. We are more than a workout group, we are a community. We are Team SPEARHEAD."
As for the local team that you may have seen along the roadways of Fuquay-Varina, that is a group based out of Fuquay CoWorking – a coworking space in located in the Fuquay Plaza office building located next to Dirty Carwash. Owners James Wong and Virginia Johnson plan activities for their member businesses as a way of team-building and promoting collaboration. One of those activities was participation in a GoRuck event back in the spring. Surprised and impressed by their experience, Wong decided to prepare for the one in September by creating a local team and organizing a 12-week training program right here in town. Thus, the Fuquay CoWorking Adventure Team was born! Through this training program, the group has doubled in size and consists of complete newbies as well as seasoned vets with prior military training and a couple of active duty members as well. All members work out together and the leadership of the team changes with every workout.
Pathfinder Training Components
The goal of the Pathfinder Training program is to develop the skills that are needed to be successful at a GoRuck event. This includes walking long distances with weights in a rucksack, doing drills before, during and after the walk, and team leadership. Over the 12 weeks, each individual must complete a series of tasks and at least four Pathfinder challenges. The tasks include 1) at least 75 rucking miles (walking with weights), 2) at least 20 ruck workouts (fitness drills with rucks on and off), and 3) at least three ruck workouts as the team leader. Pathfinder challenges can include passing the Army fitness test, rucking for 36 miles before or after WOD workouts, an 8-mile mountain ruck, a 15-mile overnight ruck, moving 45 pounds of coupons at least 8 miles, a timed ruck where you complete 12 miles in 3.5 hours or less (17:30/mi pace), or ruck an additional 75 miles. Coupons are heavy objects that the team carries in addition to the weights in their packs. Team members trade those objects, which can be anything from more weights, to logs, stones, milk jugs of water, etc.
The three weekly workouts, called "Workouts of the Day" or WODs, are peer-lead, meaning you and your teammates plan the workout and lead it. Because the training is an individual commitment, not everyone has to make every workout, which is why only 20 are required in the 12-week training period. The Pathfinder website offers a number of workout routines for those who need to do them on their own when they can't make a group workout. They are also great resources for new team leads when they are planning their workouts to meet their leadership requirement for the training program.
The Goal
The end result of the 12-week training program is a team of people who can withstand the rigors of a GoRuck Light or Tough challenge event. These events are organized all around the country just like running groups organize 5K and marathons. The event that the Fuquay CoWorking Adventure Team is preparing for is the 9/11 Tribute Weekend GoRuck Light and GoRuck Tough Challenges, which will be held in downtown Raleigh on Sept. 9th and 10th. The Tough challenge is a 12-hour overnight event starting on the 9th, and the Light challenge is a four-hour event on Saturday afternoon. Most of the Fuquay CoWorking Adventure Team will be participating in the Light event for their first competition, but there will be several members participating in the overnight event, and some are doing both!
Wong is excited about the process and the bonding that has happened among the team members over the summer months. "We have come together as a bunch of very different individuals, and will be ready for the GoRuck Light next month as a much more cohesive group of people who know how to work together to reach a goal," he explains. "This has been one of the most rewarding experiences I've had the privilege of participating in, and we are looking forward to honoring and remembering the heroes, first responders, and civilians who made the ultimate sacrifice to help others on September 11, 2001 when we take to the streets for the challenge."
The challenges on September 9th and 10th are open to any rucking, fitness and adventure enthusiasts, and Wong is quick to invite anyone to join the team for those events. "Our team started off as members, friends, and family of Fuquay Coworking, but we are always open to new family members as we ruck down this road." Anyone interested in participating in the GoRuck challenges with the team is encouraged to call James Wong or Virginia Johnson at Fuquay CoWorking at (919) 346-1735 to find out more about it.
So the next time you see the flag being "rucked" down the streets of Fuquay-Varina, you'll know that it's just a dedicated team of fitness enthusiasts who are training for a very special event, and you'll honk at them to show them your support!