B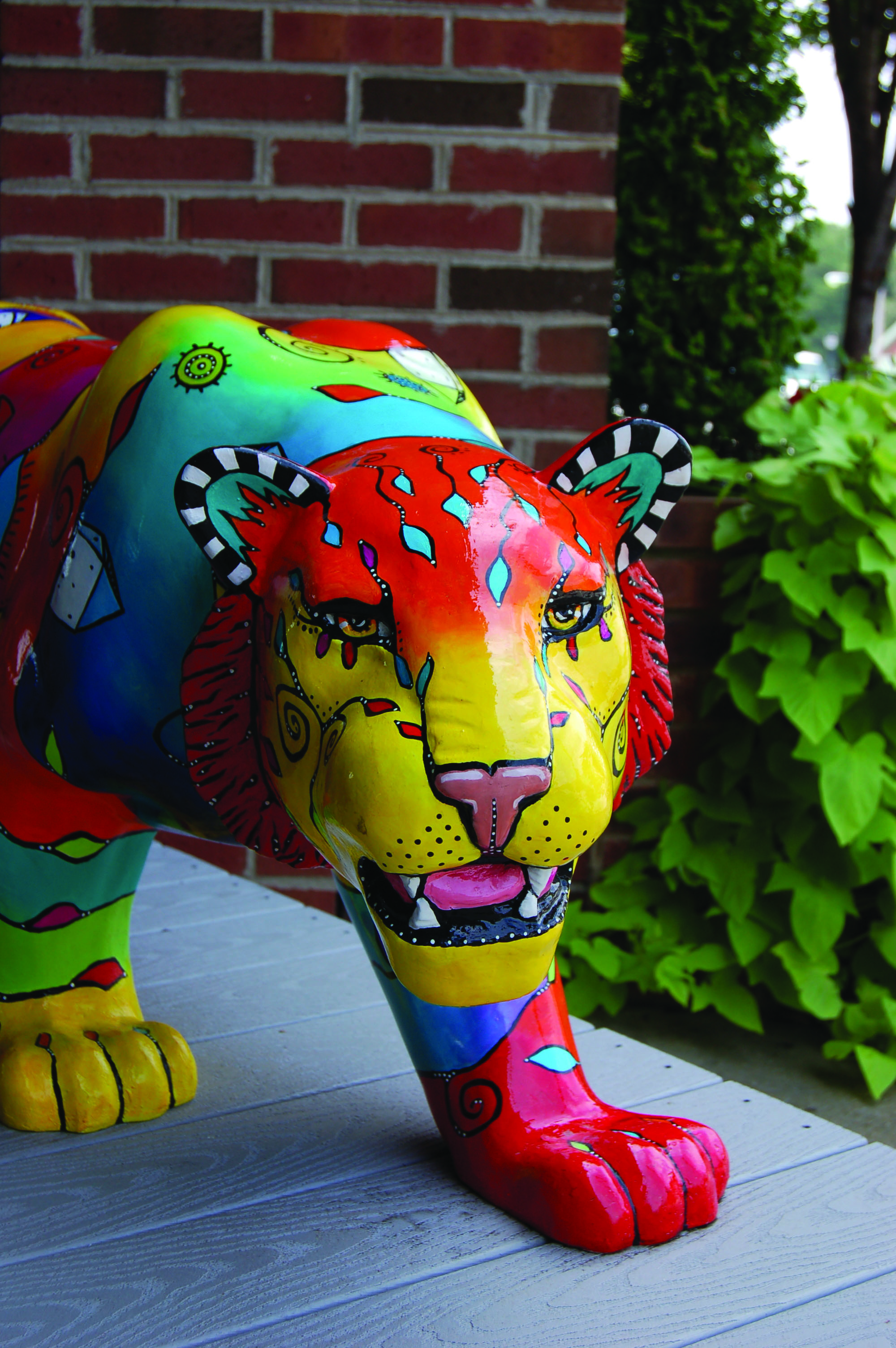 engal Tigers on Parade, a public art initiative in Fuquay-Varina, was organized by the Fuquay-Varina Downtown Association.
Fuquay-Varina's local mascot, the Bengal Tiger, is now on parade throughout the community. You will see beautifully painted Bengal Tigers proudly displayed at eight locations by their sponsors. Three of these Bengal Tigers will be up for auction on September 26th at the first ever BBQ, Blues & Brews fundraising event in the historic Varina downtown district from 3pm-8pm.
Grab your friends and head out to find eight unique Bengal Tigers. Stop by Varina Station on Broad Street; Ashley's Art at 701 N. Main Street; Four Oaks Bank at 325 Judd Parkway; Bob Barker, Inc. at 134 N. Main Street; Mad Hatter at 107 S. Main Street; Senter, Stephenson, Johnson, PA at 114 Raleigh Street; F-V Fire Department Fire Station #1 at 301 South Fuquay Avenue; and the Fuquay Mineral Spring Inn at 333 S. Main Street.
Fuquay-Varina Downtown thanks the sponsors for supporting this public art initiative and making these beautiful Bengal Tigers possible: Fuquay Mineral Spring Inn; F-V Volunteer Fire Department; Senter, Stephenson, Johnson, PA; Mad Hatter; Bob Barker Inc.; Four Oaks Bank; Ashley's Art Gallery; and Massengill Design Build.
The amazing artists who transformed blank statues into the magnificent Bengal Tigers, now proudly on display, include:  Stephanie Gerace, Tonia Gebhart, Brenda Brokke, Blythe Quinn, Rocky Alexander, Helen Seebold, John Klingler, Blair Hale with Fuquay-Varina High School (FVHS) and FVHS students: Megan Singleton, Taylor Forzaglia, Alyssa Hartzheim, and Jasmine Hicks.
For more information about the Bengal Tiger project and for a printable map visit the Fuquay-Varina Downtown Association website:
www.fuquay-varinadowntown.com/projects/bengal-tigers-on-parade.html