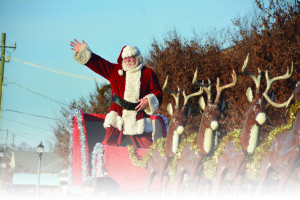 Fuquay-Varina loves Christmas and all the trappings that come with the holidays every year. So many events have become community traditions, and the whole community looks forward to them with excitement and anticipation! We have made an effort this year to pull them all together in one place so that our newest arrivals will have a holiday resource to rely on as the month of December brings so many things to see and do.
Christmas Tree Lighting
The Town of Fuquay-Varina kicks off the holiday season every year with the annual Christmas Tree Lighting in the Vance Street municipal parking lot by The Mason Jar Tavern. This three-hour event starts at 6pm on the first Thursday of December and includes holiday choral selections by local schools and choral groups, dance demonstrations, musical selections by various groups, and presentations by the Mayor and other town officials. This is a well-attended event and the parking lot is packed with people out celebrating the official start to the season! The Town suggests getting downtown early to locate parking and walk to the event. Don't forget to watch for Santa!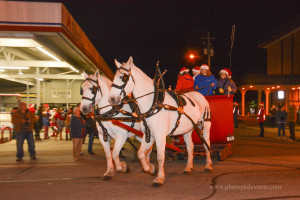 Sleigh Rides
Also on the first Thursday in December is an event that has grown in popularity to the point that you MUST purchase tickets in advance!  The winter sleigh ride event sponsored by the Fuquay-Varina Downtown Association begins at 6:00 pm on December 1st and lasts for two hours. The two horse-drawn sleighs travel in a loop around the downtown area and really capture the imagination for young and old. The horses can only pull a total of 800 riders, so only that many tickets will be offered. "Friends" and sponsors of Downtown will receive a certain number of tickets, and the remaining tickets will be offered to the public on November 30th until they are sold out. If you aren't lucky enough to get tickets, you can still enjoy the sights and sounds of the horses and sleighs when you come out for the Tree Lighting. Children love the horses and it can be as much fun to watch them as it is to ride in the sleighs. For more information about how to secure tickets in advance, check out www.fuquay-varinadowntown.com.
Christmas Parade
The Chamber of Commerce presents the annual Fuquay-Varina Christmas Parade on the first Sunday in December
every year, and 2016 is no exception. The parade offers marching bands, dancers from dance studios, classic cars, Boy and Girl Scout troops, football teams, church floats, big trucks, and much more. An honor guard leads the parade, followed by town and Chamber officials and our fire department. The entire event lasts about 90 minutes from beginning to end. It is one of the longest local parades in the area! The route begins at the intersection of Woodrow Ave and N. Main Street near the CVS and winds its way down Main Street to Vance Street (by Mason Jar Tavern), where it turns and makes its way back to the middle school via S. Fuquay Ave and Academy Streets. Residents are encouraged to line S. Fuquay Ave and Academy Street, as the parade officially isn't over until it gets to Woodrow Ave and Academy Street.
Along the parade route will be food trucks, jazz musicians, and even a church that will offer photos with Santa and drinks for residents who are waiting for the parade to start. This year, there will be a new feature to the parade. The Chamber will be placing bleachers in front of their offices on N. Main Street and announcing entries as they drive (or walk) past. Seats on the bleachers will be reserved for VIP seating. For more information, check out the Chamber's website at fuquay-varina.com/community-events/annual-christmas-parade/.
Holiday Art Extravaganza
One of the nicest new holiday events in Fuquay-Varina has to be the Holiday Arts Extravaganza, sponsored and organized by the Fuquay-Varina Arts Council, and held in the old Stephens Hardware building at 405 Broad Street in the Varina retail district. This event begins on Thursday, December 8th with the opening of their Fine Arts Exhibition, featuring local artists' work. The Fine Arts Exhibition begins at 4:00 pm and continues through Sunday afternoon. At 4:00 pm on Friday, December 9th, the Holiday Artist Market opens with local artists sharing their work with the community. All items in the Artist Market are available for purchase, and some artists will also be creating while they work. There are also art activities for children, pictures with Santa and Mrs. Claus, and a number of other activities that make it a great event for families. So put December 8-11th on  your calendar and support our local artists this holiday season! For more details about this event, check out fuquayvarinaartscouncil.wildapricot.org/event-2355705.
Cash for Christmas
The Fuquay-Varina Downtown Association sponsors a "Cash For Christmas" promotion throughout late November into early December that is designed to bring shoppers into the two downtown retail districts during the holiday shopping season. Shoppers who purchase items in any downtown shop between November 11th and December 7th are entered into a drawing for a $500 gift certificate! Shoppers can enter as many times as they want by purchasing anything from Fuquay-Varina downtown shops. The drawing for the $500 gift certificate is drawn early enough in the season that the winner can use it to spend on even more holiday shopping!
For more information about this promotion, contact the FVDA at fuquay-varinadowntown.com.