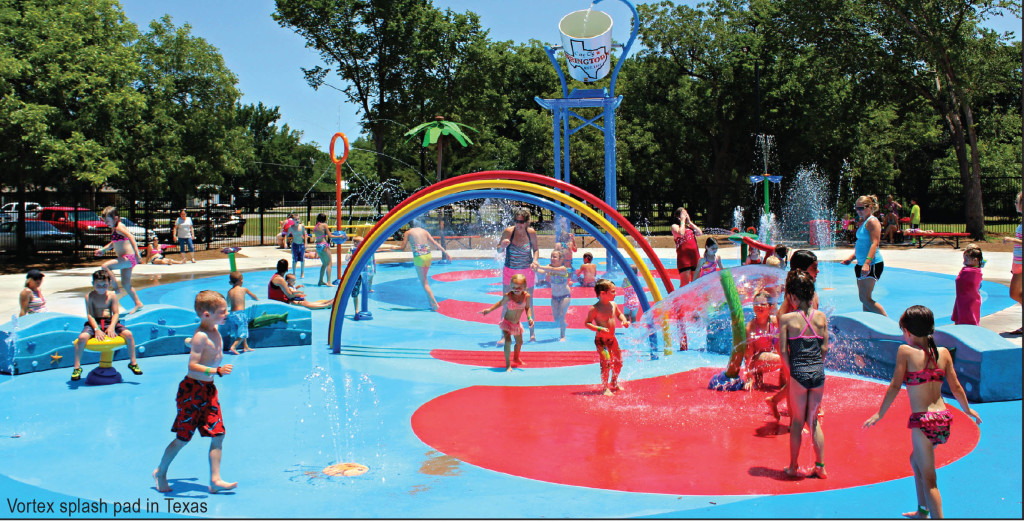 South Park is about to get a HUGE summer upgrade! Located off Main Street, just south of Judd Parkway is South Park; just behind the Community Center. You may remember the fire in December that claimed the picnic shelter in the park. Where that shelter once stood, will now be an almost 6,000 square foot splash pad.
The pentagon shaped pad will feature more than 35 different water features to play in and around.
Though originally penned to open next year, it was decided to move the project up to complete this year due to high demand. According to the town, twenty-four percent of the survey respondents indicated a strong desire to have a splash pad in Fuquay-Varina.  In fact, a splash pad was the second most frequently indicated facility in the survey after upgrades to existing playground equipment which have already been made at Library Park and are under construction at Falcon Park.
We decided to feature some of the renderings of what the park will look like, as well as a photo from one of the other parks that the same company built in Texas to give you an idea of how these structures look when their done. This exciting new summer destination is a great addition to everything else the town already has to offer.
The splash pad is anticipated to open by mid to late summer.