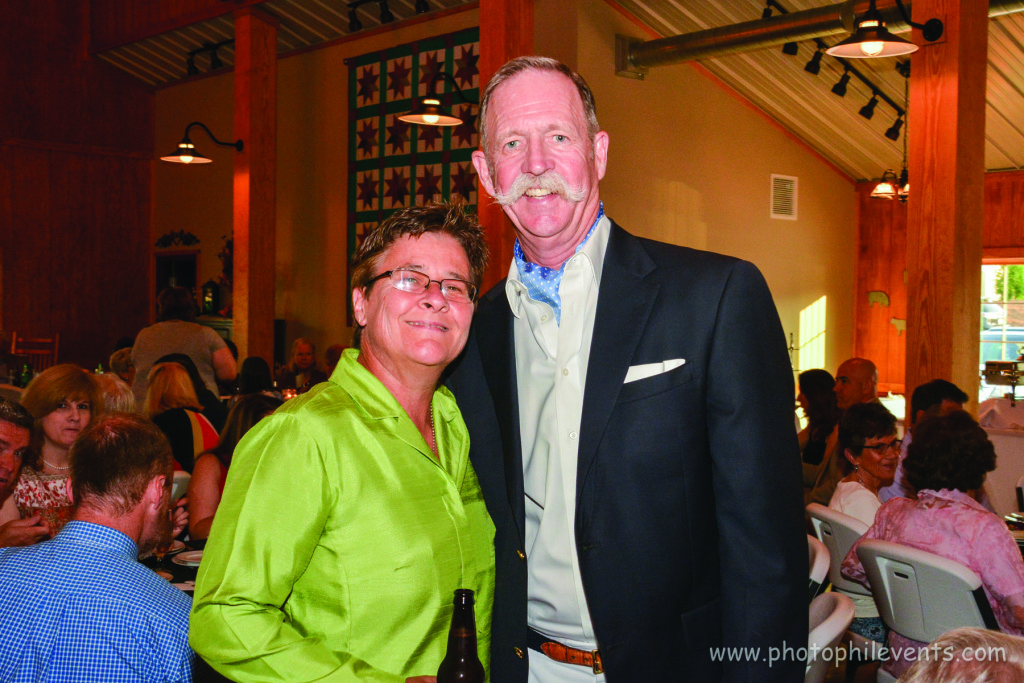 Every year at this time, the community selects an individual (or two) that stands out for their commitment to others, their love of community, and the time they spend making that community a better place. The Outstanding Citizenship Award is similar to other communities' Citizen of the Year awards, and is presented every year at the Chamber of Commerce's annual awards banquet. Nominations are solicited from the community for several months and a committee made up of previous awardees selects the next recipient from those nominations.
This year's award was given to Mr. Lee Lloyd, owner and founder of 4ncrecords.com and CourtLogic, which was started in Cary in 1999 but is now headquartered here in Fuquay-Varina. Lloyd is well known around town for his handle-bar mustache and love of men's fashion. But his dedication to the fabric of the community was known well enough by his peers that he received several nominations for the Outstanding Citizenship Award.
Lloyd grew up in North Carolina, but not in Fuquay-Varina. He attended Pittsboro High School and tried Louisburg Jr. College, but ended up at age 18 milking cows for his uncle and pondering his future. At some point he was invited to a pig picking in Fuquay-Varina by some college friends and met Tommy Broadwell. Tommy's brother told him about a guy who was working as an underwater welder in Alaska making $65,000/year. Lloyd was making $25/week on the farm, and it blew him away that someone could make that much money! On his way home that night, he stopped at a drug store and picked up a copy of Skin Diver magazine and discovered that most of the diving instructors were ex-Navy. So, his next call was to a Navy recruiter in Raleigh, who asked him what he wanted to do. Lloyd told him he wanted to be an underwater welder and make $65,000, and the recruiter convinced him to sign up and head to Florida for boot camp. After boot camp and Basic Underwater Demolition (BUD) school, Lloyd was sent to California for the next step in his career.
"I walked into the office of the SEAL team school and there was a giant stuffed frog man in the lobby," Lloyd describes. "When 'Lt. Dan' asked me why I was there, I answered with 'because I want to earn $65,000/year as an underwater welder?" Rather than enter SEAL training, Lloyd was immediately assigned to mop duty until the Navy figured out his duty assignment, which ended up being in Washington, D.C. That was the beginning of a Navy career that spanned numerous duty stations all over the world. In 1980, Lloyd left the Navy and headed to a job in Louisiana to work as – you guessed it, an underwater welder!
In 1989, Lloyd was hired by J. Ray McDermott, which was the largest marine construction company in the world. They needed experienced divers for saturation diving on major underwater construction projects and they paid extremely well. Saturation diving required lengthy underwater stays at depths that required significant time in decompression status before returning to the surface. In 1995, Lloyd was working on a big job in saturation mode in the Gulf of Mexico when Hurricane Roxanne headed their way. As with many jobs in Mexican waters, there were no evacuation plans in place, but the company knew it might have to bring the men up as quickly as possible. They were working against the clock so they could earn a significant financial payment for their work, so they stayed out in the field rather than head in to port. The divers were moored to a barge on the surface, and when Hurricane Roxanne passed them by, they thought they were safe. However, Roxanne did a U-turn and headed back toward them, so the company pulled the plug and brought the men to the surface.
Once on the barge, the seas were very rough and the men were very soon forced to abandon ship and ended up clinging to a life raft for much of the night. Several men on his team were lost, but Lloyd's group in the life raft was eventually rescued and returned to port. Lloyd suffered a mild hit on his central nervous system from being brought to the surface so quickly, and had to undergo 30 days of hyperbaric chamber treatments to treat it. An unfortunate consequence was that Lloyd lost his deep sea diving certification due to the effects of decompression and it ultimately ended his diving career.
After a few years operating a lumber salvage business in the river systems of Louisiana, Lloyd realized he needed to find a different line of work. Although the work made use of his diving skills, the heat and the physical labor were exhausting and it was time to switch gears. After talking with a buddy in Raleigh who was a bail bondsman and private investigator, Lloyd heard that North Carolina had begun allowing public access to state records.  Lloyd didn't own a computer at the time, but with his buddy and a software developer they hired, he incorporated a dot.com company that accessed court records and made them available to attorneys and others who needed them. With a $20,000 loan to buy servers and a T-1 line hook-up, Lloyd launched the business in 1999 as the only full-time owner-operator.
Still driving back and forth to Louisiana where his wife and children lived, Lloyd worked hard reaching out to lawyers all over the state when he was in North Carolina. He created the website 4ncrecords.com as the web portal for NC Information Data Link and ran the business out of an office near the Raleigh fairgrounds. In 2001, he and his wife Renee sold their house in Louisiana and moved the family to Fuquay-Varina to be near his mom and stepfather. Over the years since then, he has expanded the business several times and purchased other companies to acquire software or other technologies that strengthen his footprint in the industry. "In 2002, I hired my first employee as a part-time office  assistant who worked from home," Lloyd shares. "Sarah (Price) has increased her role over the last 15 years and now is my right hand and knows the business almost as well as I do."
Firmly entrenched in the Fuquay-Varina community since 2001, Lee Lloyd has spent most of his time here helping those around him. "I see people who need help, and I just go do it," Lloyd explains. "I try to keep in touch with what's going on in town and stay involved as an active citizen." Lloyd is a member of the Downtown Advisory Committee, and has purchased two lots in the Fuquay retail district. He also participates in the Martin Luther King Jr. walk every year and volunteers at the Emergency Food Pantry. "I'm worried that as the town grows, there is a community of residents out there that won't keep up with the pace," Lloyd cautions. "We have a responsibility to make sure that all residents' needs are met, even those who don't have as much as the rest of us." Lloyd is committed to watching out for those in need and doing his part to help those who need it, and although he is quick to say that what he does isn't that big a deal, his peers think otherwise. The community certainly applauds his efforts to make Fuquay-Varina a kinder and gentler place.