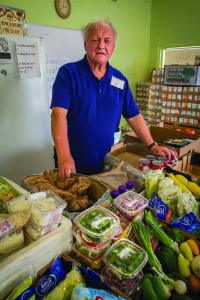 With the holidays upon us, thoughts of volunteering to help the less fortunate are often on people's minds. But there are those in our community who volunteer selflessly all year long, holidays or not, who capture the hearts of those around them. Their work ethic and reliability make them invaluable members of the teams on which they serve and they become role models for their fellow volunteers as well as the people whom they serve.
Eric Lilley is one of those volunteers. He worked twice a week at the Fuquay-Varina Emergency Food Pantry, and has done so for the last eight years. Not only is his work ethic above reproach, his dedication to serving others has been steadfast and consistent for most of his life. This alone makes him part of an elite group of dedicated stewards of our community, but the fact that he is blind and has been so for almost half his life raises him to an even higher level in the eyes of his fellow volunteers at the food pantry.
Eric was born in Darby, England almost eight decades ago, and lived there for about 50 years before immigrating to the United States. His eyesight began to fail in his late 30s due to a disease called "retinitis pigmentosa" – an inherited disease that causes retinal degeneration. His maternal grandmother lost her sight at age 60 from the same disease. Eric lost his vision completely by the age of 42.
Eric met his wife, Fran, in England. From New York, she was a fabric designer who was working in England as the Director of Design at a firm there. When his company made some personnel changes and he was out of a job, they decided to move to the United States. They landed in Greensboro, North Carolina where Eric worked for Industries of the Blind for 15 years. During that time, he became very involved with a Presbyterian Church. His volunteer work there included teaching 5th grade Sunday School and doing service work for Habitat for Humanity and the Appalachian Project as part of a men's group.
A few short years after their daughter and son-in-law moved to Cary from New Jersey, Eric and Fran retired from their jobs and moved to Fuquay-Varina. They settled in, joined the Fuquay-Varina Presbyterian Church, and began to look for ways to get involved in their new community. They both needed something to do other than yardwork and errands, and when Eric was asked to help at the Food Pantry, he readily accepted. "I needed something to do," he explains, "and I jumped at the chance to help other people." That was eight years ago, and Eric has become an integral part of the Food Pantry's weekly operations. Not only does he rarely miss a distribution day, the clients at the Pantry have gotten to know him as well.
Cynthia Ellison, assistant to the director at the Food Pantry, says she enjoys watching Eric interact with their clients. "He listens for their approach and easily offers between 3-5 different types of items to them. He is one of the only volunteers that interact with every single client that comes through our line. And most of our clients do not know he is blind as the chats with them."
Eric has a routine every Tuesday and Thursday as he prepares for distribution activities at the Pantry. He gets there early, bags potatoes, learns his stock for the day, and gets it arranged on his own for the most part. He is the primary volunteer that collects and organizes the thousands of plastic grocery bags the Pantry uses to bag the groceries they give out. Once the distribution starts, he asks each client if they would like the items he is distributing that day. "I see and chat with people every day that have disabilities of one form or another," says Ms. Ellison. "and Eric is one of the few people who doesn't expect or ask for special considerations due to his blindness."
In addition to his work at the Pantry, Eric has also been very involved in the Kairos Torch Prison Ministry for over five years. The program kicks off with a Christian weekend with 12-17 year old young men in the C.A. Dillon Development Center in Butner, and involves six months of one-on-one mentoring sessions after that initial weekend with those same young men. Mentoring requires two sessions per month for two hours at a time. Erin and Fran have also both mentored at the Chatham County Development Center for Young Women, but haven't been able to do so for a while due to Fran's ill health. Unfortunately the Butner center is closing and the boys are being moved to the Chatham County facility where a co-ed program is being formed. Eric isn't sure how much longer he'll be able to work with incarcerated youth, but it has been a very important part of his life. He is currently mentoring a teenager in his church once a month as he goes through confirmation classes. Eric has been able to introduce the young man to work at the Food Pantry – helping create a new generation of service-minded individuals who give back to their communities.
When asked what he likes most about his work at the Food Pantry and why he continues to volunteer, Eric is quick to answer. "I like to think I'm always helping people. I can't imagine not doing it." Eric also really enjoys the people he works with. "We have a good crowd of volunteers at the Pantry, especially the ladies on the produce line. I enjoy coming in and it's a great social time in addition to providing a service to other people."  Does his disability factor in anything that he does? Eric doesn't think so. "It's all so routine," he explains. "I've been doing it for so long, and when you lose one sense, you sharpen your other senses. I listen well and the clients know me now, so I recognize most of them by voice and sometimes even know what they will choose." Even with the volume of sound in the room where they distribute food at the Pantry, Eric can readily hear the requests of clients and chat with them as they select their products.
Away from the Pantry, Eric is still active at church, although he has moved to the Kirk of Holly Springs – a brand new parish that meets at the Holly Springs Masonic Lodge. His daughter, whose move to North Carolina prompted the Lilley's move to Fuquay-Varina, has since moved to South Carolina, but Eric and his wife make regular pilgrimages to visit them. He has three grandchildren – two granddaughters in South Carolina who are both teachers, and a 16-year old grandson in England, where he also travels every year.
Eric is a standup citizen in our community who, even at the age of almost 80 years old, finds regular time in his schedule to volunteer in such meaningful ways. During this holiday season, perhaps the rest of us could look for ways to contribute in long-term, meaningful ways that extend far beyond the first of January. There are many deserving organizations in Fuquay-Varina and the southwest Wake County area that could use help long after the holidays are a distant memory. For more information about volunteering with the Fuquay-Varina Emergency Food Pantry, call Mary Frances Goddard at (919) 552-7720.