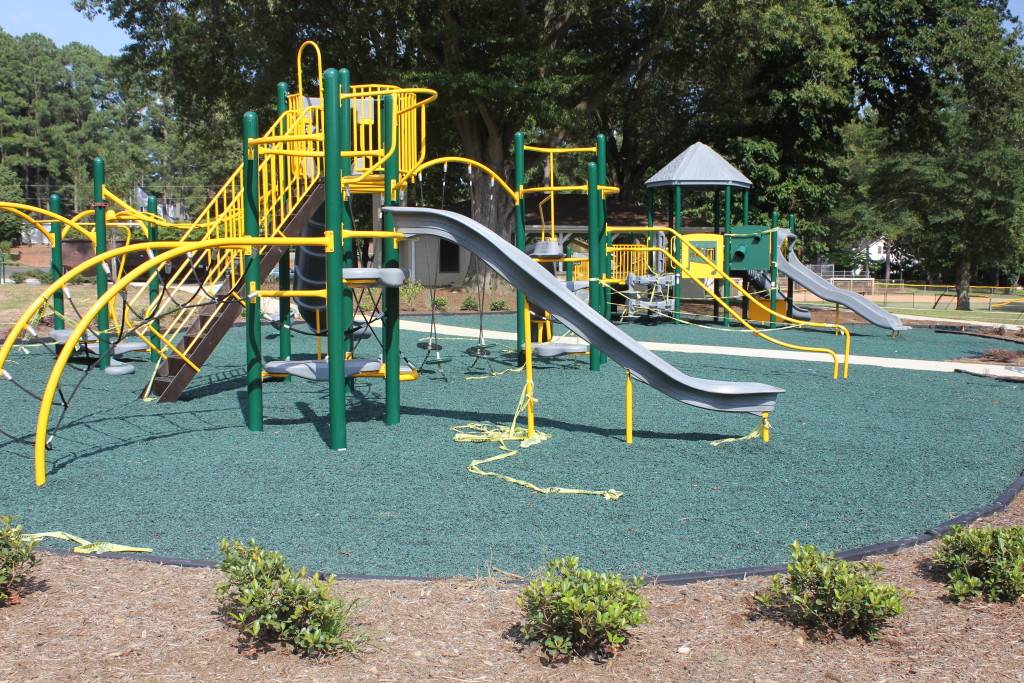 We perennially hear the refrain, "What is there to do in Fuquay?" No, we don't have putt-putt golf or go-karts. We don't have lakes and rivers for boating, swimming or other sports. We don't even have a baseball stadium! But, you know what we do have? We have over 20 different parks and an extensive greenway system totaling over 300 acres of recreational space that our town continues to develop and improve!
Beginning with the development and implementation of a Parks and Recreation Master Plan that was approved by the town board of commissioners last October, Jonathan Cox and the staff at the Parks & Recreation Department have been working steadily on a general overhaul of the recreational areas that our residents want for their children and a wide variety of activities.
"Since the master plan was initiated last Fall," Cox shares, "we have been reviewing all our recreational spaces and giving them the attention they deserve. We are excited about being able to breathe fresh life into several parks and create a couple of new spaces—most notably the new Splash Pad, which is the first of its kind in Wake County."
The 6,000 sq. foot Splash Pad, which opened to a crowd of over 2,000 people on July 15th, has been an instant hit. A fast-track project initially proposed in the master plan last Fall, the Splash Pad took less than 60 days to complete – making it available to residents free of charge for most of the summer months. Other similar parks under construction in the Triangle are not slated to open until later in the year. Fully staffed by town employees during its normal operating hours of 11am – 7pm every day of the week, the splash pad will be getting a fence and bench seating in the very near future to round out the project completely.
South Park, where the splash pad is located, is getting several other improvements this year. A town shelter that was destroyed by fire in December will be reconstructed very close to the splash pad to provide seating and shade for families. And in the Fall, the older playground near the pad will be removed and replaced with new, updated equipment designed for a variety of ages, with different sections designed for ages 2-5 and 5-12. South Park is already home to softball and baseball fields, a quarter mile walking/jogging track, and the start of the Jeff Wells greenway/nature trail that connects with the Carroll Howard Johnson Environmental Park on Wagstaff Rd.
South Park is not the only park in Fuquay-Varina that is enjoying a facelift. Falcon Park, on the corner of East Academy and Ennis Streets, near the middle school, has been closed for the better part of a year as it undergoes a complete overhaul of buildings, parking lot, and playground space. Slated to open by mid-to-late August, the 5-acre Falcon Park will soon sport a brand-new multi-age playground, an open air picnic shelter, a brand new, expanded parking lot, a renovated building for event rentals, and lots of new walkways and landscaping. Although this park is used for baseball and softball games throughout the year, residents are anxiously awaiting the grand re-opening of one of the oldest parks in Fuquay-Varina and all that it will offer residents.
Just down the street from Falcon Park is another small park that has seen a great deal of activity this year. Library Park, nestled behind the Wake County Public Library, is now connected to the Museums Complex and Ashworth Park along S. Aiken Street with paved walkways, stairs and a small, stone amphitheater. Brand new playground equipment has been installed between the two parks, along with lights and creative landscaping to make a tiny one-acre oasis just off Main Street. The walkways wind their way from the playground and picnic shelter to the historic buildings in Ashworth Park, just adjacent to Library Park.
Ashworth Park is home to several historic structures that are important to the heritage of the community, including the Squire Ballentine two-room schoolhouse, the first Fuquay Springs Post Office, an original tobacco barn, and a child's playhouse from a local family's homestead. The Centennial Museum, which shares a building with the DMV office, is open on Wednesday afternoons from 1-4pm and during special events downtown. Docents are available to conduct tours through the post office and school during those times or by special request. Coming soon to the park are an original 1940 caboose from Norfolk-Southern Railroad, and a reconstructed train depot. This is a great small park with a great deal of local history that will soon be handicapped accessible with new ramps to each of the outbuildings.
Another historic park in town, Mineral Springs Park, recently underwent renovations to clear brush and add walkways to make the park that sits below the town's new administrative office building more attractive and accessible to residents. It is a perfect place for a quiet picnic, a walk through the shade on hot afternoons to dip your feet in the creek, and the restored Springhouse provides a trip back in time to the days when Fuquay-Varina was a destination place for people across the state. Located on South Main Street, the park is great for strollers and children, and future plans for an amphitheater and restrooms (as of yet unfunded) will make it a desirable location for quiet time and family activities.
In addition to the recreational areas in town that are being renovated and improved, there are more than a dozen other parks and facilities that provide countless hours of recreational fun for families and outdoor sports enthusiasts. Two of these are the Carroll Howard Johnson Environmental Education Park and the Fuquay-Varina Dog Park. The Environmental Education Park is part of the greenway trail and focuses on environmental educational activities. Donated to the town in the 1990's, this 28 acre wooded park includes a 2-mile nature trail complete with beautiful overlooks and natural bridges. An amphitheater and picnic shelter make it an ideal location for scouting troop activities, as well as bird-watching and other naturalist endeavors. The town's Parks & Recreation department offers a number of environmental programs at the park every season and it is available for educational activities of all kinds.
The Fuquay-Varina Dog Park, located on Woodland Drive just outside of the downtown Fuquay retail district, is the only free dog park in southern Wake County. With two separate areas—one for small dogs and one for larger dogs—that both include watering fountains as well as plenty of acreage for dogs to run off-leash and socialize with other dogs, this park is very popular. The park is open from 7am until dark, and hosts a number of events and activities for dog lovers throughout the year.
The town also is working on building a greenway system, which currently includes the 2-mile South Lakes Greenway. This trail was built by the developers of the South Lake subdivision just south of John Deere Turf Care, and deeded to the town in 2014. Construction will begin in 2015 to build the new Park Depot Trail, which will start at Honeycutt Park on Old Honeycutt Road and cross NC 55 to connect with the South Lakes Greenway with Honeycutt Park on Old Honeycutt Rd. Future plans include expanding the greenway system further to connect parks and facilities with downtown sites.
So the next time you are looking for something to do, consider taking the dog to the dog park, or take the kids to the splash pad. Go kick a soccer ball around at Fleming Loop Recreational Park, or play some tennis under the lights at Action Park. The playgrounds at Falcon Park and Library Park and (soon-to-be) South Park will soon be attracting lots of young families as people find out about the new amenities, and tours of Ashworth Park with its historic buildings can be arranged by calling the Friends of the Museums at 919-552-5562. Take a walk after dinner along the Jeff Wells Trail from South Park to the Carroll Howard Johnson Park and back or through Mineral Springs Park. Dip your toes in the creek by the Springs. It's all right here in Fuquay-Varina!