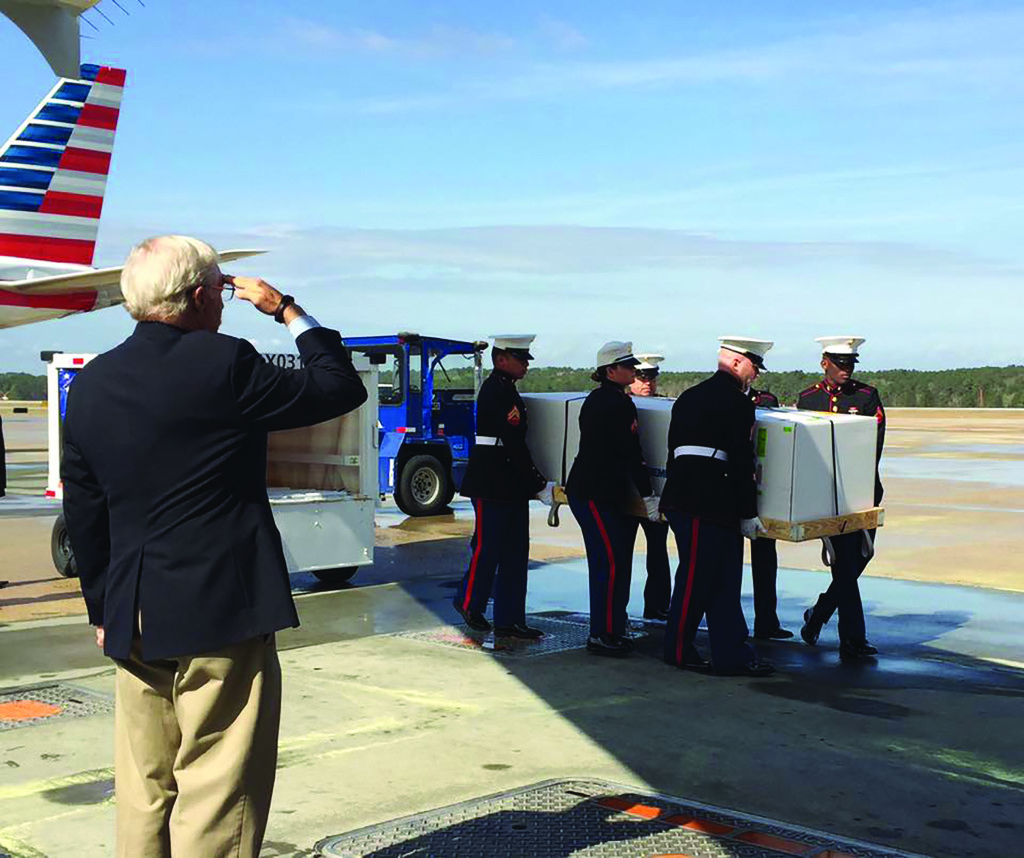 In 1941, as war clouds overshadowed America's shores, President Franklin D. Roosevelt brought six civilian organizations together for one purpose alone – to provide a home away from home for our military. Centers began popping up all over the nation – churches, log cabins, museums, storefronts, barns, beach and yacht clubs, railroad sleep cars, and even castles.
In Jacksonville, NC, a center officially opened its doors the next year. It is proudly the oldest, continuously operating USO location in the world, just celebrating its 75th year.  It serves its military personnel from the time they enter their chosen branches, throughout their selfless time dedicated to our nation, until their transition back into civilian life.
The USO of NC supports the fourth largest military presence in the country with its ten locations and one mobile unit operating around the state. In 2016 alone, it provided programs and services to over 600,000 members.
But I had no idea there was a USO center in Raleigh, did you? And it's one of the most-admired USO organizations in the country.
It's hidden in a limited, donated area inside Terminal 2 at RDU. I say hidden, but not intentionally. There is a very small sign next to the Starbucks Coffee kiosk at the TSA entrance. It's just the only place available outside the secured area allowing them to be open 24 hours a day, 7 days a week to serve those who serve. And they've been a presence there, although first in a space a third the size, in Terminal 1, since 2004.
I found it while hunting for a cause to volunteer for. That was no easy task. You'd think, "Just send in your name and sign up," right? Not even close. I had to wait nearly two years for an interview to even be considered. But I finally got my chance and was amazed at what I learned…"
As I awaited my interview, I toured the one large room wallpapered in delightful sepia-toned, vintage photos of military personnel and their families participating in USO activities, all blended in and out of a pattern of patriotic stars and stripes. A flat-screen TV and DVD player unit sit atop long display shelves humbly showcasing several dozen shining insignias from all branches of the military. Three rows of donated, oversized, cushy massage recliners are lined up like soldiers before the screen. They invite weary heads fresh out of boot camp on their way to their first assignment to rest or weary bodies returning from foreign deployments to 'sit (or sleep) a spell.' Behind the loungers are two dining tables and a long counter filled with a welcoming assortment of snacks, daily donated meals from vendors wanting to express their thanks, several fridge units of beverages, and a full kitchen to serve any honored guests.
A small tech room next door houses private work or play stations for members to lose themselves in between flights. There are video or X-BOX games or they can take advantage of video chat sessions to say hello (but all too often goodbye) to friends and loved ones. Wifi-ed computers, CAC readers, fax machines, phones, charging stations, and printers are also available. There is even a play area and changing table for the little ones who may be waiting to greet mom or dad coming or going on a long flight or deployment. After all, they serve this country in their own way, too. They share their families with and for the rest of us.
Sometimes, with little to no advance notice, as many as a hundred military personnel can show up on the center's doorstep seeking some R&R during their journeys. With its modest amount of space, the room somehow accommodates foam pads laid out on every possible inch of carpet until all needs are met.
"We just don't have the means for a bigger space," volunteer Meg Segal shared. She said that RDU is kind enough to donate the space they're in, but their need a great deal of the time is for much more than what they now occupy.
"You will experience many things as a volunteer here at our center," Segal, who interviewed me, said. "You can expect to laugh a lot, but you can also expect to cry a lot, too."
As she related some of her own stories from her seven years as a USO-RDU volunteer herself, her eyes glistened as she paused on one in particular.
"We have an Ambassador Program here that I take part in when I can," Segal said. "We roam through the terminal looking for active and retired service people to talk to and invite them to our center upstairs. Many never knew we were there. I spotted an older gentleman one day sporting a cap with "World War II – Korea – Vietnam" displayed across the front. I walked up to him and grasped both of his hands in mine, looked directly into his eyes and said, 'From the bottom of my heart, I want to thank you for all you've sacrificed and done for all of us.'" They both teared up as she walked away and she wasn't sure who was more grateful for that moment – him or her.
Over a dozen other center programs are just as engaging and often as heart-wrenching. Deployment and homecoming support, financial literacy, wounded/ill/injured care, family/spouse reset, and also warrior reset (an intensive program designed to reduce PTS and holistically improve wellness overall for both warriors and families, with proven, dramatic, long-term results). And then the community programs like gifting sports and entertainment tickets, delivering cookies to unsuspecting units, and providing skills and tools needed to smoothly transition out of the military.  In a nutshell, the USO of North Carolina in general, and the USO at RDU in particular, are committed to being "the force behind the Forces," whenever and wherever possible, night or day.
And curtains have been rising on world famous celebrities entertaining the troops since World War II. Who can forget the civilian Hollywood performers who often travelled into combat zones and foreign hospitals as a treat to the troops? Remember Bob Hope's Christmas specials from Vietnam in the turbulent 60s? And then there were superstars like Chuck Norris, Kansas, the Doobie Brothers, John Denver, Lee Greenwood, reigning Miss USAs, and more in the 80s and beyond.
But one program has touched me more than all the rest combined. It was born out of compassion from a situation that should have never been in practice in the first place.
In 2006, the USO got a call to assist a widow of a soldier killed in Iraq whose remains were coming home to North Carolina. But back then, a soldier's remains would come in on a commercial flight and the casket would be unloaded as regular baggage.  But Retired Col. Ken Tigges was on shift that night. He went down to help her, and they had to stand at the gate above the tarmac and watch as this soldier's remains were put on a baggage cart with all the passengers' luggage as if it, too, were just mere cargo.
Determined this would never happen again, Col. Tigges established the Honor Support Team which now provides a dignified return with honor, assists families of the fallen in tarmac ceremonies, guides military escorts and families through the terminal, answers questions, and provides a quiet place for all involved to relax. As a result, teams have been adopted at other USO of NC locations who are always on call to support respectful transfers.
For families experiencing the tragic death of a child or loved one for the first time who's served our land, they are grieving as well as scared. But they have discovered the kindness of the USO, often commenting that it's like having your parents or a brother or sister alongside you during that unspeakably dark time.
The USO of NC is a 501C3 charity not funded by the government or the national USO. It relies only on the generosity of neighbors and corporate citizens to deliver these vital programs across the state. Ninety-three cents of every dollar goes to this critical cause.
All it takes to be admitted to this exclusive club is simply proof. Proof of one's service to this great country that they have each chosen to serve, represent, fight for, and knowingly do so with no expectation of fame or fortune. Simply out of love for our land and its people. Unsung heroes. Yes, without a doubt.
"Until everyone comes home" is more than just a motto. It's a living, breathing, ongoing mission. To become part of it and contribute your "time, talent, or treasure," visit uso-nc.org or call 919-840-3000.