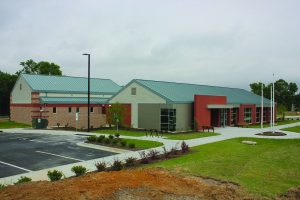 The landscape of Fuquay-Varina continues to change, and in this issue we are excited to share several large projects that will have a big impact on residents as well as visitors.
These projects are a direct positive result of the growth our community is experiencing. Although we all complain about the traffic, there are huge gains in amenities that we all can make use of that we would not otherwise be able to enjoy.  Here are just a few.
Public Service Building
In June 2015, construction began on a new, state-of-the-art Public Service Center at 1415 Holland Road. That building is now scheduled for a ribbon cutting on June 1st, and will centralize staff and equipment from Public Works, Public Utilities, and Park Maintenance. It will become a delivery center for the town, as well as provide a higher level of security for town-owned and leased heavy equipment. This is a large investment in town efficiency, and will vastly improve the working environment for a number of town departments and move the public works hub from the downtown "Link" area to an area of town that can better handle the constant movement of vehicles.
Downtown Mixed Use Development Project
The town's economic Development Department is currently working with the UNC School of Government's Development Finance Initiative (DFI) to explore ways that the town can leverage new infill mixed-use development to promote more walkable and livable downtown areas. The town board has authorized funds to be used for site selection and pre-development services that will ultimately result in millions of dollars of private sector, mixed-use development in the heart of the community. The town approved the partnership with DFI in February and town manager Adam Mitchell recently presented a timeline for the project that will begin to "engage downtown stakeholders and community members" in planning for potential commercial-residential mixed-use projects downtown. Work to obtain site control of areas the town wants to develop will begin this summer, with the project put out to bid by August of 2017. "Our focus on downtown is strong," reported Mitchell at a recent board meeting. "We want to take advantage of a good market climate." The first open house for public input was held on May 18th at town hall, and included graduate students from the DFI on hand to explain their work. Citizens interested in the town's vision for the downtown retail districts can contact Jim Seymour at Town Hall at (919) 552-1400.
New Community Branch Library
The Town Board recently adopted a resolution in support of Wake County constructing an 8,500 SF Fuquay-Varina Branch Library just off Judd Parkway that will allow an increased collection size, increased hours of operation, an increase in the number of youth programs, and an increase in the number of public computer terminals. The new, larger branch library will double the number of children's librarians and increase staffing from four to eight full-time employees, thus allowing for a significant increase in planned children's programming available to town residents. Although there was a push to keep the library in the downtown district, the location on Judd Parkway will position the facility to be expanded into a regional library similar to Apex's Eva Perry Library in a few years. The land for this project has been purchased by Wake County and construction is expected to begin in early 2017 with completion in early 2018. The current library building will become property of the Town of Fuquay-Varina once the new library is in operation.
Terrible Creek Waste Water Treatment Plant Expansion
On May 18th, the Town broke ground for the expansion of the Terrible Creek Waste Water Treatment plant, which will take approximately 30 months to complete. This expansion will increase treatment capacity from one to three million gallons per day and provide treatment capacity in the Neuse River portion of the Town until at least 2034. This project will also allow for future expansion up to six million gallons as the town grows. In January, the Town Board authorized that $34 million in revenue bonds be sold to fund the project. User fees will be utilized to repay the bonds. The Terrible Creek Waste Water Treatment expansion is expected to be completed in November 2018. According to Mayor John Byrne, this project is the largest single project in Fuquay-Varina history, and is one of several steps the town is taking to keep up with the wave of growth that continues to affect infrastructure.
Fuquay-Varina Cultural Arts Center
In the spring of 2015, the Town of Fuquay-Varina acquired the former Stars Theater for $575,000 to serve as a venue for arts programming in Fuquay-Varina. The theater will be called the Fuquay-Varina Arts Center. Located at 123 E. Vance Street in the heart of downtown, the Fuquay-Varina Arts Center is centrally located with ample room and parking to allow the town to continue to build upon our citizens' growing interest in the arts. The Town expects to begin working soon with design professionals that specialize in renovating and building art facilities. The new Art Center director, Maureen Daley, has been tasked with overseeing the design and development of the new Arts  Center. The Town is currently determining the final budget for renovations, and sees the center as key to its efforts to redevelop and invigorate the downtown area. "Fuquay-Varina is especially active in the cultural arts for a town its size," Daly says. "The goal for this facility is to sort out how to make it a cultural hub that will let us grow instead of just accommodating what we already have." This project will kick into gear this Fall and be the first step in a long-term process of developing an arts district in downtown Fuquay-Varina.
Kennedy Mixed Use Development – Old Powell Rd.
Tentatively named Powell Square, the first major multi-use development project has been raised from mothballs and stands to become the first significant gateway project for Fuquay-Varina in recent years. Located at the corner of Old Powell Road and the NC 55 Bypass, the development will include 265 luxury apartments and a significant amount of retail and office space. After being dormant since the property was purchased and rezoned in 2013, the development firm told the Town in March that it is ready to begin the design and permitting process. According to the town's director of economic development, Jim Seymour, the project will ideally be anchored by an upscale grocery store. The $50 million upscale development project marks one of the more substantial investments in Fuquay-Varina since the recession began in 2008. First steps for this project after the design and permitting phase will include some road-widening and adding of turn lanes on NC 55. Stay tuned for more details about this project.