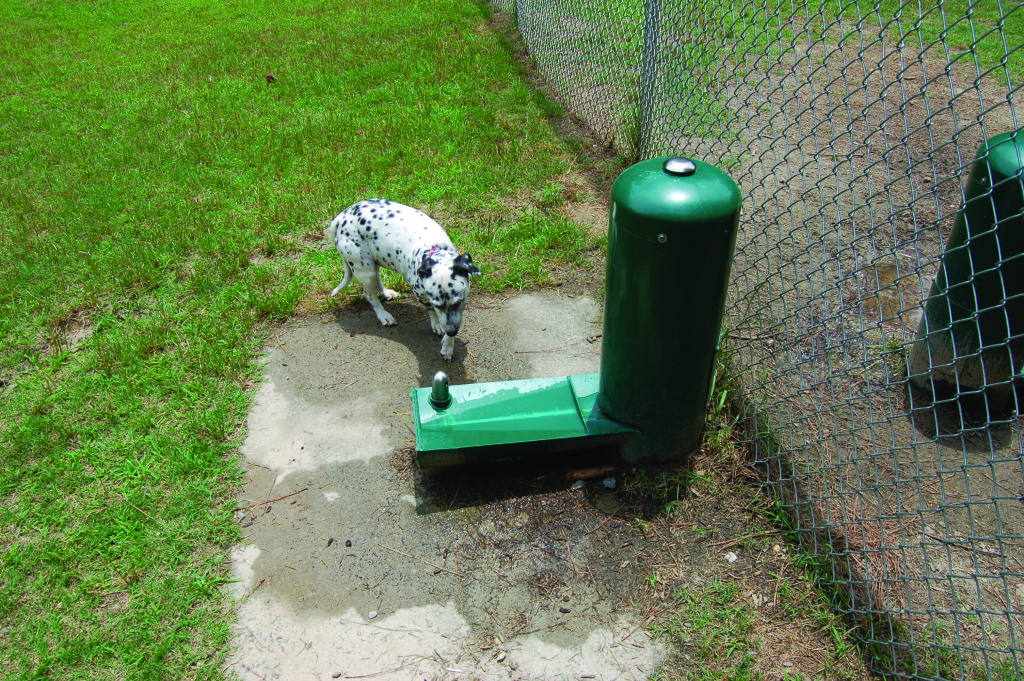 Are your Great Dane's social skills a bit "ruff" around the edges?  Or has your little pocket buddy Yorkshire been relentlessly "hounding" you for some play time?  Maybe you just want to reward your well-heeled pooch with a "field trip." Then pack up your pack and head on out to a nearby spot designed just for them all that's only two blocks off Main Street.
Promoted as a whoppin' eight acres of off-leash fun, the very popular Fuquay-Varina Dog Park is the only free admission dog park in southern Wake County. And it's only a ball-toss away from downtown Fuquay's retail district. But "fur" what it's worth, it's a bit tricky to find unless you're familiar with the area. Just enter 110 Woodland Drive into your GPS and you're there in a jiffy. Even so, its slightly secluded location is just far enough away from traffic, yet close enough to town for a quick, spontaneous outing, making it easy to visit often. With all the home and apartment construction underway, and two families a day moving into the town, the canine community is lucky to have this great new facility to call their own.
Since opening in 2013, Fuquay Varina has made sure that it's going to the dogs, in the best possible way.  And folks have been saying that it has more than enough room for plenty of them to play and explore while still being in sight and voice control at all times (one of the park rules). Unlike other dog parks, this one has a huge advantage in its 6-foot chain link fence for breeds 30 pounds and up to romp around in, which is a great deterrent for jumpers and climbers. Even better, the smaller guys under 30 pounds have their own fenced-off playground, if hanging around with the big dogs isn't one of their favorite ways to spend a dog-day afternoon.
First and foremost, all pups (over six months of age only) must be wearing a collar with ID, and a rabies vaccination tag must be displayed at all times. No spiked collars whatsoever are allowed.
The many bonus features of the dog park are nothing to be sniffed at!  Both areas offer enough acreage to run freely and to socialize with other dogs. It has grassy areas, a good deal of trees for shade, benches for the humans to sit and share their favorite pet stories, sanitary stations (but take note: none for the humans), and refreshing doggie water stations that can be a lifesaver when it gets hot under the collar in the summertime, as it most certainly will. And the bio-degradable clean-up bags and waste cans for disposal are particularly handy and appreciated. (Yes, another rule: owners must "scoop and dispose" every deposit in the containers provided!)
Here's how it works: Enter the park with your pet on a lead. When you're both ready, go in and secure the first gate, unleash your pup, and then open the second gate. Double check to make sure each gate closes behind you before entering the next one, to prevent any runaways or surprises. Frequent users advise that you're much less likely to have problems this way than when entering on-leash.
It might be a drag, but be sure to have the leash or harness on-hand at all times. However, each human may only have a maximum of two dogs at a time in the park. And last, but not "leashed", the trick is to keep walking and playing. This helps keep the off-leash play area neutral territory for everybody. And that's it!
The park even hosts a number of events and activities for those interested throughout the year. One example is a recent Halloween when a "Coffee and Cocoa in the Dog Park" festivity was held. Community dog lovers and the canine objects of their affection were invited to come in costume (the pups, not the humans, that is) for a chance to win a much-coveted raffle prize!  As the proud pups paraded the grounds in all their Halloween ensembles enjoying special goodies just for them, proud owners mingled among their own kind while enjoying free cups of coffee or hot cocoa.
But let me give you a few "pointers" from the town's dog park website page. Be aware that dogs have different play styles. It's a good idea, before your first visit to the park, to educate yourself on canine behavior. Talk to your vet, do online research, catch some of Cesar Millan's "Dog Whisperer" programs (he's brilliant at understanding dog psychology and will help you think like one to become the pack leader at home!), and look up "Fuquay Dog Park" for their Facebook page. You'll find a good number of helpful posts, tips, and comments to give you a heads-up on what to expect.
No bones about it, you also need to be aware of all the rules pertaining to what to do if Fido (either yours or someone else's) misbehaves. Dogs are not allowed to visit who are in heat or have a known history of biting or fighting. If one shows signs of aggressive behavior, the pet must be removed from the park immediately. Just know there is mandatory reporting of bites to the FVPD and required provision of contact info to the injured dog's owner before leaving the premises.
So, I'll quit beating around the bush and just cut to the chase. Mutt as well, right? Bottom line: The humans are responsible for any injury or damage inflicted on other animals. But incidents are best avoided by supervising your own pet at all times. Those who fail to abide by rules and regulations may experience a loss of park privileges. So do your utmost to keep Spot polite and mannerly so he can be welcomed back at any time.
And then, there are all the common sense items. After all, turnabout is fair play – there are human rules, too, of course. No people or animal food, treats, or yummy bones are permitted inside the fenced areas, for obvious reasons. Nor is littering – discarded, tempting wrappers are just choking hazards waiting to happen. Life-threatening events are no fun for anyone!
Shoes are required (for those on two legs only), humans under the age of 10 must remain outside the fenced areas, and strollers/bikes/trikes/big wheels/you-get-the-idea are for people parks – not dog parks. And only non-smoking attendees are permitted inside. And to be considerate of all ankles and unsteady walkers, fill in any holes your dog digs or make appropriate repairs to disturbed areas. Mind-beagle-ing perhaps, but you'll be glad you did!
So let's paws and reflect… A park designed just for furry friends of the canine variety, located conveniently just two blocks behind The Mill in downtown Fuquay, tons of freedom and off-leash play, new-friend-making opportunities (for both species), fresh air and exercise – what more could you ask for?
And if you can't get there this week, don't "terrier" yourself up about it. It's open 7 days a week from 7 in the morning till dusk. You just might want to dog-ear this page, for future reference. Who knows? Your canine just might discover puppy love at your local dog park. Whatever you do, just take yourselves there – fur the fun of it, at the very leashed!
But don't ask me – I don't really have a personal opinion to offer, as a present non-dog owner. I guess you could say, I'm "neuter-al" when it comes to dog parks.