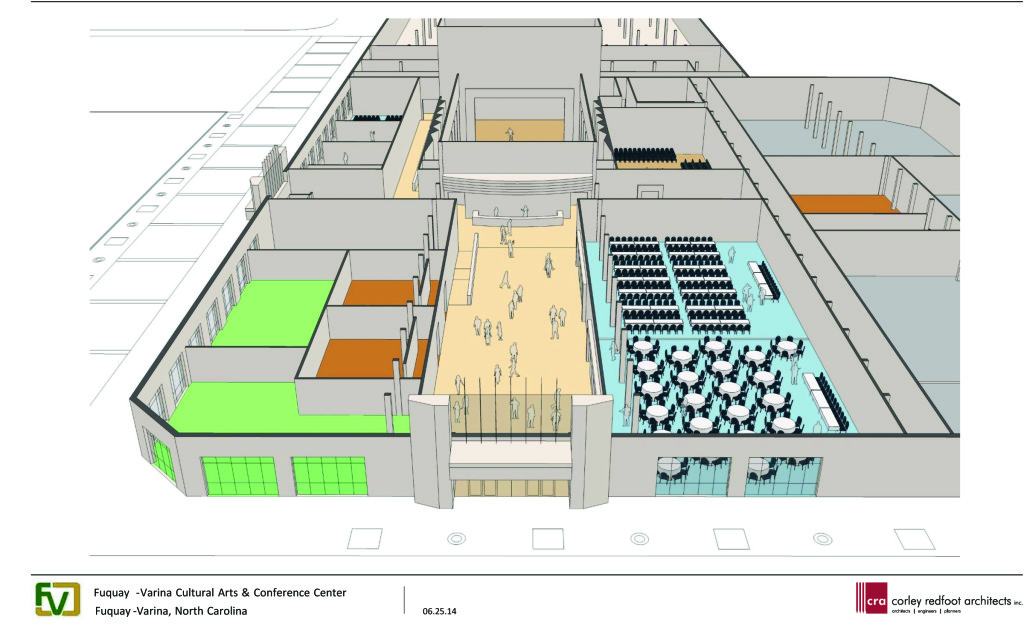 In 1998, a committee of interested citizens banded together and started exploring the idea of a cultural arts center in Fuquay-Varina. After months of work, the town decided that the timing wasn't right for such an expensive endeavor in sleepy little Fuquay-Varina. Fifteen years later, a similar group of individuals with some new faces but the same zeal for the arts and an understanding of the lack of meeting space in town reorganized to research the potential for an arts and conference center.
Initially, the new group was called the Cultural Arts Exploratory Committee (CEC), and met regularly in 2011, researching the possibility of an arts center and looking for potential locations. The organization accomplished several goals. First, it held a brainstorming meeting that was attended by town leaders, Chamber of Commerce representatives, and long-time residents. Many ideas were generated about the use and location of a potential arts center. The group also raised personal donations totaling $13,000 for a feasibility study to explore the potential of a cultural arts center in Fuquay. Third, the group started a Facebook page to develop community support for a cultural arts center.
Finally, the CEC presented a report of their work and a request for a feasibility study to the town board in July 2014. The town approved the request and a firm was hired almost immediately. After several months of work, a feasibility study report was presented to the town board saying that Fuquay-Varina was a good site for a cultural arts center, but that the current demographics did not currently support it. Their findings indicated that the town was about 10 years away from being able to cover the operating costs of a center.
Energized by the idea of a center that could include conference space for Fuquay-Varina's bigger businesses to use, the Bob Barker Company became involved in the conversation. The Bob Barker Company paid for a second feasibility study, which showed a more favorable outlook for such a facility. It also paid for an economic impact study to be done that showed all the economic benefits of having a cultural arts center located in the downtown district. As a result of these two reports, Bob and Pat Barker offered to donate the Cornell Dubilier building on Jones Street to the town, along with adjacent land for parking, a $1 million donation for construction and $25,000/year toward its maintenance. This donation was made to the full town board in 2012. It was the first donation of that size in the town's history.
Shortly after the donation was offered, Mayor John Byrne appointed a Cultural Arts Center Study Committee, and asked Commissioner Blake Massengill to chair it. The study committee met for eight months, discussing options and visiting other facilities in the area to gauge the pros and cons of operating a center. On Wednesday, Jan 21st, the study committee voted to send a report to the town board with a recommendation to accept the Barkers' offer, to negotiate an equitable arrangement for transfer of assets, and to build the center by 2017. This report was presented to the town board on February 2, 2015.
What has now been renamed the Fuquay-Varina Arts and Conference Center (FVACC), has been beautifully conceptualized. The proposed 80,000 sf facility includes all the different pieces that are necessary in a state-of-the-art performing and visual arts facility, plus the banquet and meeting space to handle up to 500 people in two large banquet halls. It includes a 600-seat theater, a 200-seat black box theater, two large banquet halls that can be opened into one large room, a dance studio, break-out rooms/classrooms, a costume shop, a set design shop with storage, a culinary arts kitchen, music school place, and leasable areas for complimentary businesses or expansion of the facility. There is 44,000 sf exposition space on the end of the building that is not part of the initial renovation project, but will eventually provide enough space for 192 10×10 booths for trade shows and expos.
Bob Barker, his wife Pat, and his daughter, Nancy Johns have thrown their energies into generating support for the new center. As the owner of a corporation that is headquartered in Fuquay-Varina, Bob Barker has been talking about the need for conference and exposition space in SW Wake County for a number of years now. "We spend over $50,000 for each trade show that we attend, in booth rentals, booth construction, and marketing expenses," Barker explains. "Fuquay-Varina could benefit from being able to offer space that would attract other large companies in the trade show and expo arena. It would also attract bigger businesses to locate here in town if they had such a facility to use." Fuquay-Varina is home to several corporate headquarters that use facilities in other towns such as Raleigh and Morrisville to hold their conferences, trainings, and trade shows.
With Fuquay-Varina expected to almost triple in population in the next 15 years, corporations and businesses in town are starting to call for more significant meeting space. Currently, the largest spaces in the community are the community center's gymnasium, Bentwinds Country Club, which can hold almost 200 people, and Highgrove Estate, which can also hold about 200 people. Bentwinds and Highgrove are event spaces, great for banquets and weddings. They don't have the proper facilities for a business expo or trade show. Businesses have to go out of town for those types of venues. The new Arts and Conference Center would be able to provide banquet space for almost 500 people that could also accommodate trade shows and expos, and four breakout rooms for conferences and training seminars. Other communities already often use Bentwinds and Highgrove for their bigger events, such as the Holly Springs Chamber of Commerce, who had their annual awards banquet at Bentwinds in January 2015.
The performing arts side of the house will provide two performing arts venues that, with their extra space for props, sets, costumes, dance and music space, and storage, will create a venue in Fuquay-Varina that is currently unavailable to SW Wake County residents. The closest 600-seat theater is in Raleigh, with most of the others in the 200-300 range. A 600-seat theater would serve the needs of five dance schools in the immediate area for recital space and other performances, as well as Fuquay-Varina High School. The high school theater is too small for their theater department's use, and often doesn't have enough tickets over a weekend performance to make sure that students' families can see their productions. A performing arts facility of the size projected for the FVACC would attract medium-sized musical groups and performing troupes to Fuquay-Varina, and in turn attract residents from surrounding towns to performances. The economic impact of those people spending dollars in Fuquay-Varina would be huge.
One of the key pieces of this project is the understanding that it would be best approached as a public-private partnership. Many successful arts centers in the United States are partnerships that operate with both public funds and private donations. In an effort to push this project forward, the 501(c)(3) Fuquay-Varina Arts Foundation (FVAF) was formed in 2014 to begin searching for private donations. They have estimated that they will need $5 million in private funding to make the facility happen.
With $1 million in the bank already, FVAF is actively working to promote the approval of Bob Barker's building, land, and annual facility maintenance donation. The Foundation is working on grants and personal donations from arts advocates with deep pockets.
The Foundation has also submitted a grant request to the Wake County Board of Commissioners for consideration. The Foundation has been bringing county commissioners to Fuquay-Varina in small groups over the last few weeks to show them the Cornell Dubilier building and discuss the grant request and the overall project. The Foundation has created a video with computer animation of what the interior of the facility will look like. They will use the video in grant applications and presentations to other foundation boards in their quest for additional funding.
The FVAF is confident that the town is ready for a facility of this size and import. "A project like this will put Fuquay-Varina on the map and provide our restaurants, hotels, and shops with increased revenue as soon as construction starts," stresses the Chamber of Commerce's executive director, Linda Frenette. "The economic impact study on this project shows just how important it will be, both to our residents and to the greater SW Wake County area. It's very much needed, as our town is on the cusp of major growth."
All that's left is for town leaders and the foundation to reach an agreement on moving forward with the project, and for private fundraising efforts to secure the necessary additional funding it needs. The Arts Foundation is hopeful that the findings of the town's study commission will propel the project forward. "When I was working on a commission in Raleigh back in the early 1980's, a good friend of mine Zachary said something to us that has stayed with me my entire life," says Bob Barker. "He said 'why don't we look at the reasons we need to do something instead of why we shouldn't.' I have operated that way most of my life and I hope our town can find it within itself to do the same." With the focus on a private/public partnership, and the ability of the Arts Foundation to raise private funds, the path is paved for a successful project.
To find out more about the Fuquay-Varina Arts Foundation and the status of the FVACC, go to http://fuquay-varinaartsfoundation.com/fuquay-varina-arts-conference-center/. Residents interested in helping with this project can contact the Foundation at (919) 346-2104.