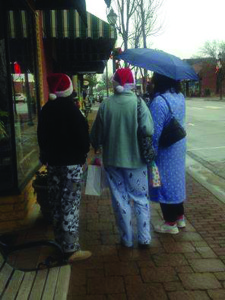 With all of Fuquay-Varina's charm, it may be best known for the eclectic spirit and ambience of its two downtown districts. While lots of small towns in our state have active downtowns, only Fuquay-Varina has TWO – a feature that many of our newer residents still do not fully understand.
Tucked away on Broad Street and Main Street and associated side streets are over 70 small businesses, including retail, restaurants, and service-related businesses. Gourmet cupcakes, monogramming shops, a high-end florist, a toy/hobby shop, collectibles, and health food can be found in the Varina retail district. High end mens clothing and shoes, collectibles, jewelry, antiques, hats & gourmet teas, cosmetics, craft items, tablewear, and more can be found in the Fuquay retail district. Combined with great mom and pop restaurants, yoga studios, realtors, insurance agents, and salons, these two shopping districts have so much to offer the selective shopper.
For the store owners in our downtown districts, the quest to attract residents and visitors to shop in their small boutiques and eat in the smaller, non-chain restaurants is a never-ending challenge. But, it is a challenge that brings great rewards for those who discover all the treasures they have to offer. The collection of unique shops in the two downtown areas is a gold mine for those who discover them, and the merchants are getting creative with ways to lure shoppers away from the chain stores and into the oasis that the downtown districts offer. The Fuquay-Varina Downtown Association works year-round to promote shopping and patronage downtown, but there are some promotions and events that are spearheaded by the merchants themselves.
A Christmas holiday shopping event called "Earlier Than The Bird" is one of those events. Organized by Bobbie Asad, owner of The Mad Hatter in the downtown Fuquay retail district, Earlier Than The Bird combines fun and shopping in a unique way to promote downtown patronage just in time to kick off holiday shopping.
Local resident Anna Campbell suggested the event to the Downtown Association several years ago after moving to Fuquay-Varina. She participated in a similar event when she lived in California and thought it would be a great new event in Fuquay-Varina. When the Downtown Association decided not to add it to their calendar, Campbell shared the idea with Asad, who thought it would be a great new promotion. "It sounded like a great way to provide a fun shopping experience for Christmas shoppers," she smiles "and entice them to explore downtown!"
The name Earlier than the Bird is not unique to Fuquay-Varina. A number of communities across the country organize variations on this theme. A play on the old adage "The early bird gets the worm," the concept is that shoppers get up "earlier than the bird" to get even BIGGER deals on holiday shopping than if they went during regular business hours. Earlier than the Bird first debuted in Fuquay-Varina just two holiday shopping seasons ago in 2014, making this year the 3rd Annual event. "It's an idea that nobody nearby is offering, which makes it unique and different," says Asad.  "I like organizing things that not everyone else in the area is doing. It peaks people's interest and brings in visitors as well as residents."
When this event first debuted in 2014, shoppers were encouraged to wear pajamas and it did bring a few people out who were decked out in pajama pants and bunny suits. The Meeting Corner (now Edna's Café & Cocktails) served breakfast at 7:00 am to kick things off, and shopping began in earnest at 8:00. Participating merchants had special deals and promotions for the early shopping hours as well as for the rest of that day, and shoppers got some amazing buys!
"Every year we add more businesses that decide to participate, so every year we have more to offer shoppers," says Merle Norman Cosmetics owner Beth Glover. "Shoppers get some great benefits by showing up early and getting into the holiday spirit early in the season!"
The second year, the pajama requirement was dropped as a way of encouraging more shoppers. "We were afraid that people thought they couldn't come downtown unless they were wearing pajamas," said Asad, "and that's not the case at all. They can wear whatever they like as long as it's decent." Now, pajamas are still welcome and fun, and even encouraged, but they are definitely not a requirement. Residents and visitors don't need to worry about what they wear to attend. "Just come out and have fun and enjoy the morning!"
The other fun feature of this event is that it is held BEFORE Thanksgiving every year. The first year it was held in early December, but after that first event the store owners felt that it might generate more activity if it was held earlier in the season. "There is so much going on in December that it was getting lost in the shuffle," Asad explains. "We felt if we moved it up into November, it would kick off the season and not compete with so many other events and Christmas festivities."
This year's event is being held on Saturday, November 19th from 8:00 am till noon. Participating businesses in both downtown areas will offer sales, promotions, food, or other special treats as an added enticement for shoppers. Although not all businesses have released what those specific deals and promotions will be, Mad Hatter will be offering brunch-type food items for shoppers while supplies last.
The list of participating businesses is still evolving, but those who have already signed up include:
For more information about this event, contact Bobbie Asad at The Mad Hatter at (919) 557-5771 or check out the Earlier Than the Bird Facebook page.