Fuquay-Varina's Most Creative Fundraiser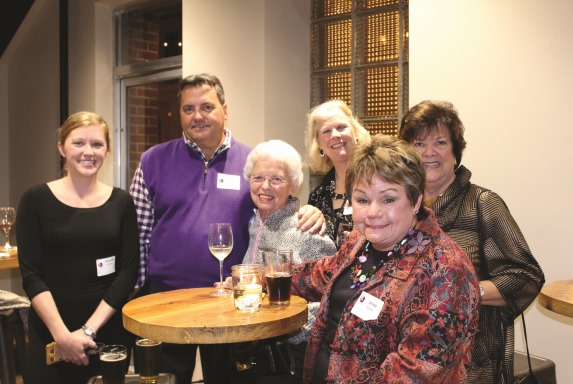 Leaves are changing, temperatures are falling, and birds are flying south. It must be autumn in Wake County. Another sign of the season is the "Guess Who's Coming to Dinner?" fundraiser for the United Arts Council of Raleigh and Wake County. For the past 10 fall seasons, this unique event has raised over $900,000 for their Artists in the Schools program.
Traditionally over three nights in early November, fans of the arts gather in private homes across Wake County to share a fabulous meal with an artist with North Carolina ties. Dinner guests may choose the home where they would like to dine, but – and here's the twist – the identity of the artists attending each dinner remains a mystery until the night of the dinner.
On Thursday, November 6th, residents of Fuquay-Varina came together to throw a Guess Who's Coming to Dinner? party to support the arts in local schools and raise awareness for arts education in a big way. Rather than a small, intimate dinner party, this party was a spectacular cooperative effort of several hosts and was held in the upper mezzanine of the newly opened beer/wine/espresso bar The Mill in the downtown Fuquay retail district. One of the hosts was Katie and Josh Dies, owners of The Mill and Stick Boy Baking Company.
The second couple hosting the dinner was Linda Johnson from Senter, Stephenson, & Johnson PA, and her husband Steve. As long-time supporters of the arts, a fundraiser for the arts in Fuquay-Varina was not complete without them. Linda is also the owner of the building on Raleigh Street in the downtown Fuquay retail district in which Artistic Expressions – an art cooperative where local artists display paintings, jewelry, photography, glass art, and more – resides.
The hosts of the Fuquay-Varina "Guess Who?" event appreciate and recognize the power of the arts in their community, and they put together a fabulous dinner to highlight just that. The night was definitely an affair to remember. Guests included Mayor John Byrne and his wife Patty, and major arts advocates Bob and Pat Barker.
A successful dinner party would not be complete without incredible food. Kate and Steve Day, owners of Plates on Glenwood South in Raleigh, catered the delicious fare on tables beautifully decorated by Naomi Riley, owner of The Polished Table. Kate is also active on the United Arts Board of Directors.
"We were thrilled to have a "Guess Who?" dinner party in downtown Fuquay-Varina this year," said Eleanor Oakley, United Arts Council President and CEO. "United Arts supports schools across the county through our Artists in the Schools program. We are so grateful when a community gives back as generously as the people of Fuquay-Varina did. The town truly came together to show their support of the arts."
Another part of the fundraiser that added intrigue to the dinner party was the mystery guest artist. The artist at this dinner was handpicked for his ties to Fuquay-Varina. Designer Chris Knott, founder and creative director for the Peter Millar product line surprised the group when they arrived. As a native of Fuquay-Varina, Chris has been a part of the fabric of life in this community from an early age. He started selling clothing at Ashworth's Clothing at the age of 14 and now is the inspiration behind the very popular, multi-million dollar Peter Millar brand. His designs are sold in high-end country clubs and retail stores both in the United States and abroad, but his roots are still in Wake County with the Peter Millar world headquarters in Cary.
United Arts serves all of Wake County. For more than 30 years, the Artists in the Schools program has placed professional artists in public, private and charter schools in Wake County. These artists work with faculty, students, PTAs and cultural arts representatives to implement curriculum-based "arts in education" programs.
"Many students never have the opportunity to see a play or a musical performance," United Arts Council's Vice President for Education and Community Programs Ragen Carlile said. "Teaming up with the schools and their PTAs, our Artists in the Schools program creates an experience that seamlessly links the arts to core subjects making learning more fun and memorable."
At-risk students who have access to the arts in or out of school tend to have better academic results, better workforce opportunities, and more civic engagement, according to a NEA report, The Arts and Achievement in At-Risk Youth: Findings from Four Longitudinal Studies. The study reports these and other positive outcomes associated with high levels of arts exposure for youth of low socioeconomic status.
In 2013-2014, the Artists in the Schools program supported 157,688 contact hours for 144,059 students in Wake County. This school year will be no exception. In 2014-2015, United Arts has already awarded $112,000 to 137 Wake County schools to bring in teaching artists for performances and residencies that integrate the arts with core subjects. With 311 funded events planned in 137 Wake schools, the arts will touch many students' lives.
Michael Beadle, a favorite writer-in-residence in Wake County schools, says his focus is "to encourage, inspire and challenge writers to express themselves and become more confident with writing so they can continue to be lifelong learners and creative problem-solvers." He continued, "I wish more education policy makers could see how students' eyes light up when they are fully engaged in writing and enjoy the opportunity to be truly free with their imaginations. There is true learning going on, with guided practice and structure from a teacher. None of this was ever meant to be scored on a bubble sheet."
Each year Fuquay-Varina schools benefit from the Artists in the Schools program. In September, Ballentine Elementary School brought in Children's Theatre of Charlotte for a performance. Students at Lincoln Heights Elementary are in for a treat when storyteller Donna Washington pays them a visit in February. At Fuquay-Varina Elementary, Bass Street Bayworks performed last month and Fuquay- Varina Middle school will find out that Shakespeare can be fun with Burning Coal Theatre next March. In February at Herbert Akins Elementary, the popular musical group The Beast will tell the story of African-American music from spirituals to hip hop. Lastly, Banks Road Elementary will get moving with Footworks Percussive dancers next March.
Ann Marie Amico, artist and proud resident of Fuquay-Varina, also believes in the United Arts Council's Artists in the Schools program. For many years, she has designed all the programs, posters and invitations for the "Guess Who?" fundraisers, and her marketing and branding efforts have created a strong and recognizable name for the event. She was also instrumental in bringing the "Guess Who?" dinner to Fuquay-Varina this year.
"Having a dinner like this in downtown Fuquay-Varina to support bringing artists into our area schools is a perfect combination of my love of art and my love for my town," Amico said. "This party was a true community effort. Not only did everyone have a great time, but we raised money for a great cause."
This year marked the 10th year of the Guess Who's Coming to Dinner? events, and the 25th anniversary of United Arts. To celebrate, one dinner was added to include 200 guests at the North Carolina State Bar Association building in downtown Raleigh on Saturday, November 8th. Mystery guests from the past ten years attended the event. Over the three nights this year, over $85,000 was raised to support arts education.
For more information about United Arts and their Artists in the Schools program, go to www.unitedarts.org