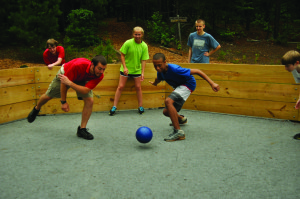 Camp Agape
1369 Tyler Dewar Lane
www.agapekurebeach.org
This faith-based camp has several programs from day camps to overnight camps. The facility offers comfortable indoor overnight housing and a commercial kitchen. Kids can ride horses, launch rockets, swim, boat, and much more. Camps run from June 12th to August 5th, and rates start at $175.
Fuquay-Varina Parks & Recreation
820 S. Main Street
www.fvparks.org
Weekly camps start on June 20. Fun themes include Young Artists, Young Scientists, Nature Explorers, Drama Week, Wild Kingdom Week, and more. Cost: $100/week for residents, $125/week for non-residents. Campers must have completed Kindergarten. Hours are 7:30AM-5:30PM.
Kiddie Academy of Fuquay
610 Lakestone Commons Avenue
www.educationaldaycare.kiddieacademy.com
Kiddie Academy's Camp Adventure curriculum is built upon a series of two-week themes designed to inspire your child to explore, create, interact, and stay active during the summer months. Children ages 1-2 will be enjoy themes such as How Things Work and Exploring Our Neighbors Near and Far. Kids ages 3-4 can expect themes of Wild and Wacky Fun and Once Upon a Time. And children ages 5+ will participate in Kiddie Academy Olympics and Dream Vacations.
Xtreme Challenge All Stars
101 S. Main Street, Suite 220
www.xtremechallengeallstars.com
Cheer camp takes place starting June 13. Campers will enjoy cheer and tumble class, conditioning, outdoor play, snacks, crafts, games and movie time. Daily rate is $40. To check them out ahead of time, you can sign up on the website for a free trial class.
ClubWorx
100 South Fitness Drive
www.clubworx.net
ClubWorx boasts a unique type of camp for children ages 5-12. Themed weeks include Aloha Summer, Full Steam Ahead, Superheroes, The Amazing Race, and several other options. There's also outdoor swimming at this fitness-oriented camp. You can find a sample daily schedule on their website.
Paladin Power and Speed 
717 Broad Street
www.paladinpowerandspeed.com
Paladin Power and Speed offers premier speed, agility and strength training for athletes of all ages and sports backgrounds. This soccer program is currently enrolling for summer camps for children ages 6-18 in all soccer levels. Three weeks of the camps will be local in Fuquay and Holly Springs.
The Goddard School
655 Old Honeycutt Road
www.goddardschool.com
This highly rated school has a packed summer calendar incorporating STEAM learning (science, technology, engineering, arts and mathematics).  Visit their website or contact them directly for more information.
Sew by Heart Sewing Studio
Contact for address
www.sewbyheart.com
Classes are 9AM-noon, 4 days per week at this Fuquay-based home studio. Owner Donna is passionate about sharing her love of sewing with the next generation. Visit website to see sample projects.  Class size is limited to four so that students/campers get the attention they need and deserve. All supplies are provided. Cost: $185.
Capital City Speech Therapy
141 N. Main Street
www.capitalcityspeechtherapy.com
This speech therapy clinic offers a unique camp in July called "Power Packed Vocabulary Development." There are three groups for kids from ages 2-8. It's designed to help your child retain and improve upon the skills already learned during their first 1-2 years of preschool. Cost for the 3-4 week sessions is around $250.
Childcare Network
350 West Jones Street
www.childcarenetwork.com
"It takes a village" is this location's motto. Childcare Network offers Adventure Summer Camp for school age children. The curriculum and activities are supported by weekly themes, field trips, water play, guest speakers, various activities, and so much more.
APPLESeeds Preschool
7300 Sunset Lake Road
www.appleseedspreschool.org
APPLE Seedlings is designed to keep your child's mind, body, and spirit active during the summer months. Children transform into musicians, artists, athletes, scientists, chefs and more while engaging in enriching activities like music, games, arts/crafts, and more. This is the perfect place for the child with no preschool experience as well as for the child who will be continuing school in the fall and wants to keep learning through the summer. The two-day program is
$45/week and the four-day program is $85/week.