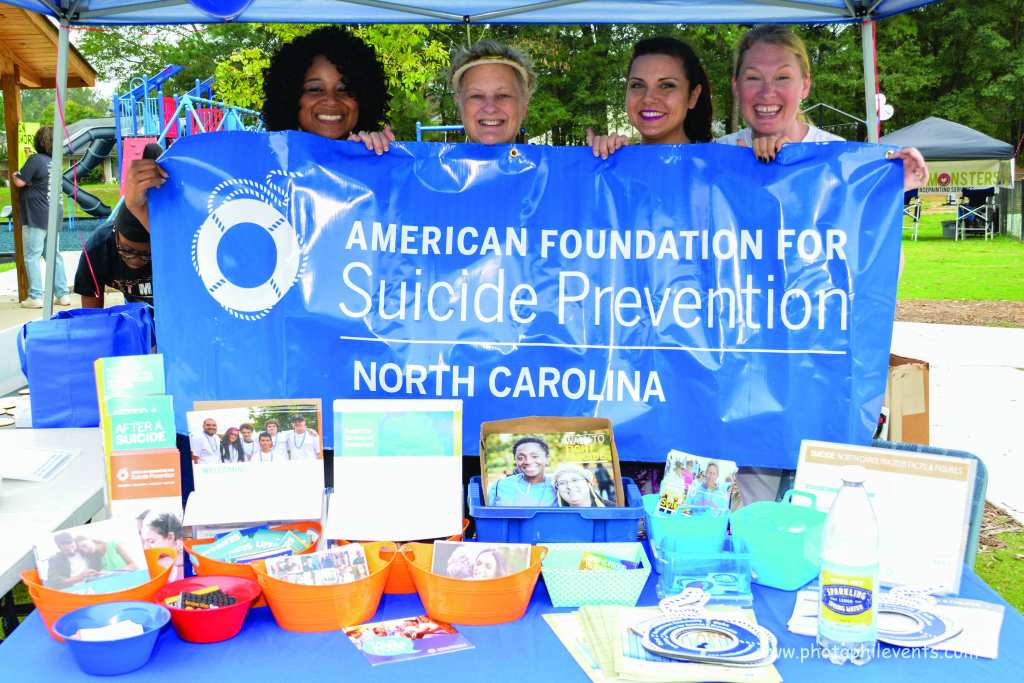 Every day, 112 Americans take their own life. That's one person every 12.8 minutes. 
Suicide is the fourth leading cause of death for adults between the ages of 15 and 64, and 90 percent of those who take their own life have a diagnosable psychiatric disorder at the time of their death.  
These may seem like pretty morbid statistics when considered all together, but suicide is reaching epidemic proportions in our society and organizations are beginning to recognize the power of awareness and education in the fight against the damage that untreated and unrecognized depression can cause.
Fuquay-Varina is not immune to this silent tragedy, and more and more families are turning to outreach as a way of honoring those they've lost–finding ways to help families who have lost loved ones; helping educate first responders, therapists, clergy, teachers, and other interested parties; and building coalitions of resources for those struggling and those who live in the aftermath.
One pair of ladies here in Fuquay-Varina found each other after losing family members to suicide and decided to channel their emotions into constructive ways to help prevent similar tragedies in other people's families. Lisa Hoover and De O'Brien live in the same neighborhood, and when De lost her brother, she turned to Lisa who had also lost a brother the same way. Both women realized soon after that they wanted to help prevent other suicides, increase awareness through education, and reduce the stigma of mental health in their community. Even though the circumstances surrounding their brothers' deaths had been different, the end result was the same and both knew that they needed to lend their hands to starting a community-wide conversation about mental health issues and suicide prevention in Fuquay-Varina.
When they started, there was no state chapter of the American Foundation for Suicide Prevention. A small group of people were working to open one, and there were already a couple of awareness events happening in North Carolina, but efforts were scattered and national foundation people never responded to inquiries. De and Lisa decided to organize Fuquay-Varina's first "Out of the Darkness" walk event anyway to help get things rolling in North Carolina.
In their first year of organizing the walk, they won an award for the most money raised in a town with a population under 25,000. Part of the money from that first walk helped get the North Carolina chapter of the American Foundation for Suicide Prevention opened, which their group is very proud of.
The walk attracted about 175 participants and raised about $13,000. Half of that went to the national foundation and half went to the effort to open a state chapter. Every year since, they have broken their fundraising record from the year before. In 2016, they raised over $24,000 and had over 300 participants!
Because their fundraising has been so successful, the American Foundation has been able to start offering training programs in North Carolina, and in Fuquay-Varina specifically, to provide resources for first responders, therapists, and others who work in the mental health field. The Applied Suicide Intervention Skills Training (ASIST) program was held last year for the first time over two days in March. A "Safe Talk" training program was also offered in June 2016, with 50% of the program for ages 15 and up, and the other 50% for people who work with teens. This past year, the NC Chapter was able to host Lunch and Learns for clergy and laity of all denominations that were very well attended and very well received by the attendees.
As from the beginning, half of the proceeds of each walk have gone to the NC Chapter of the American Foundation for Suicide Prevention, and it is that money that has been used to fund all these training programs. Because of all the outreach efforts, the NC Chapter has won several awards at the Foundation's national conference – one for small market efforts and one called the "Pacesetters Award." The state now has five (5) community walks completed or planned in 2017, as well as some additional walks on college campuses.
"As a result of my involvement in the NC Chapter since its inception in 2013, I now serve on several committees at the state level," Lisa Hoover shares. "I serve on the Education & Program Committee, the Public Relations Committee, and the Fundraising Committee. I feel it gives me a little more influence over how and where the funds are spent and how much comes back to the local community where it is most needed." The state chapter pays for the programming and the local groups partner with the chapter to find facilities and food for the various programs. The overhead for these programs has been low thanks to the efforts of people like Lisa and De, who get venues and food donated.
"We can't get over how blessed we are with the support of the community," Lisa expresses. "The amount of giving has been tremendous and the personal support of people like Jason Wunsch and Marilyn Gardner – all the town commissioners, actually – as well as logistical support from Chief Laura Fahnestock and the entire police department for the walk itself just amazes us!"
Over the last couple of years, there has been an increased focus on the mental health needs of military veterans. With 22 veterans committing suicide every day in this country, the annual "Out of the Darkness" walk has started to involve professionals and survivors from the military and veterans groups. De's husband Ray is a veteran and that segment of the community has become his focus more recently.  "I have done quite a bit of work with Mike Dorman of Military Missions in Action," says Ray. "In the process of building ramps and doing other projects with him, I discovered that his assistant's husband had also committed suicide. I have really tried to pull the needs of our veterans into our planning process."
The 2017 "Out of the Darkness" Walk will be held on September 24, and already has hundreds of participants signed up to walk and raise money.  "We have really high hopes that we will again surpass our fundraising from last year," Lisa shares. "We have even more planned for the participants, with some old standbys that our community partners keep bringing to the event every year."
The event itself includes free food for all participants from Zaxby's Chicken in Fuquay-Varina, great music from The Digh Brother's Band, water and snack bars donated by Food Lion, and a great lineup of speakers during the official program before the walk kicks off. Although the specific lineup of speakers is not solidified yet, they have in the past included a survivor, someone struggling with anxiety/depression, a military chaplain, the police chief, a town commissioner whose family has been affected by suicide, a school psychologist, someone from the NC National Guard, post-partum depression survivors, and more.
Participants who raise over $150 before the day of the walk will get an event t-shirt, and groups are encouraged to sign up teams with their own t-shirts made up before the event. There will be face-painters on site and a henna tattoo artist. The goal of the event is to provide a family-friendly venue and space for people to connect with resources and support each other while raising awareness and funds for more programming in the local community. Families are encouraged to come and bring their kids for the music and food and registration activities at 1:00pm on Sept. 24 and stay for the program and walk, which starts at 2:00pm.
To sign up a team, or to donate to this great cause, go to http://bit.ly/2pCyOv6 and follow the prompts provided. For more information about this event, about the NC Chapter of the American Foundation for Suicide Prevention, or about resources for families dealing with suicide or mental health issues, contact Lisa Hoover at lmhoover98@yahoo.com.