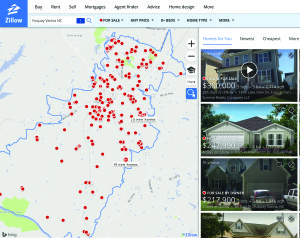 We asked some local realtors how they felt the new construction affected home values for local homeowners. Here's what they had to say:
Erica B. Anderson
Broker/Owner, REALTOR
Team Anderson Realty
There's no denying that Fuquay-Varina is growing. Some are for the growth, others against it. Despite whether you're for or against it, many of you have a common question. What is all this growth and new home construction doing to the value of your homes. Although there is no perfect formula, we posed that very question to the professionals on the front lines when it comes to people buying homes in Fuquay-Varina; the realtors. Here is the question and the answers from three different Fuquay-Varina realtors.
There is a lot of building going on right now in Fuquay-Varina. How is this affecting the value of the homes that are already built? Is this a good time to sell? Will values rise with inventory continuing to increase? What's more popular now, new construction or established homes?
During the time of the housing slump, builders and developers were purchasing land often as foreclosed or distressed properties. This allowed them to build and sell during the decline at very competitive prices, and resale properties were struggling with being able to compete with new construction home values and trendy interior upgrades. Thankfully, once most of those distressed properties were purchased and the economy began to improve, existing homes values started to substantially increase and land has become much more expensive and harder to locate. This is giving resale properties (existing homes) a more competitive market and allowing them to sell much higher than they were in previous years.
I believe that values will continue to increase as inventory is still not meeting demand, even with the new construction homes being built at all-time high numbers. Inventory is so low right now that many of our listings are selling within the first few days of listing, and often times at or above list price, with multiple offers. Now is a wonderful time to sell as many buyers are idly waiting for homes to come on the market. I am finding that although the appeal of a new home is still there with some buyers, the land and the lot is what many buyers are finding as most important, and new construction is not always able to give a lot with established trees and size desired by the buyers.
The Multiple Listing Services (MLS) that real estate agents use to find homes for buyers and market their listings is showing that from November 20, 2016 to May 20, 2016, 343 detached single families in Fuquay Varina have closed that are not new construction. During this same timeframe the MLS is showing that 231 detached single family new construction homes have sold. Not all new construction homes are listed on the MLS as many are purchased as pre-sales and therefore not entered in the MLS, but this gives the consumer a solid indication that resale sales are robust. Currently, as of May 20, 2016 there are only 105 Fuquay Varina detached single family properties as listed actively for sale and not under contract.
Right now interest rates are still at historically low levels with many buyers purchasing homes with loans in the 3-4% fixed interest rate rage. Generally, for every 1% increase in interest rates, a buyer loses 10% in buying power. This is creating a sense of urgency for many buyers and they know that rates cannot stay this low forever. Also, Fuquay-Varina is still a USDA eligible area which many first time homebuyers find appealing. USDA, if the buyer qualifies for it, allows the buyer to purchase a home with 100% financing. Other buyers are finding that the quality and size of homes available in Fuquay-Varina are exceptional compared to other areas like Holly Springs, Apex and Cary. The proximity to HWY 540 and HWY 401 and HWY 1 are also making it an easy choice for buyers who work in or around the Triangle.
___________________________________________
Laura Moody McCorry
Broker/Owner
FRONT PORCH REALTY
We are seeing tremendous growth in the Holly Springs and Fuquay-Varina markets.  New construction starts have not been able to keep up with the demand for housing.  This has been good news for re-sale homes as inventory is so low, prices have increased as much as 6-7% from 2015.  Much of our new-construction is being completed by "National" builders so they are built on slabs and their cost per square foot is very competitive.  However, their lot size is very small compared to our existing re-sale market.  If lot size matters to the buyer, then they will pay for the custom re-sale home pricing.  It all depends on the situation of the buyer; single or newly married millennials usually go for the "brand new" and convenience to shopping along with neighborhood amenities.  While the families with children may go for a re-sale home that has more of a yard and they don't mind driving out an away from our hustle and bustle.  The empty nesters and retired buyers like their Master Bedroom on the first floor or a ranch style which is not easy to find amid the existing new construction inventory.
___________________________________________
Becky Medlin
Century 21 Becky Medlin Realty
How is New Construction Affecting the value of homes already built?
The Established Home values are affected primarily when marketing in a neighborhood where the builders are still building New Construction Homes.  An established home will not out-price New Construction because the average person goes for the New Construction in the same neighborhood.  Therefore the Established Home Value must stay just under the New Construction.  In neighborhoods that are already built and NO new construction, the value of established homes is not affected.
Is This a good time to sell?
Absolutely a good time to sell your home.  Interest rates are low.  There are lots of buyers and very few homes for sale which makes little supply and great demand for housing.  Prices of homes are better than the previous few years.
Will prices rise with inventory continuing to increase?
Prices rising as inventory increases depends on the location of your home.  If your neighborhood continues to have New Construction, then prices rising will be slower.  On the other hand, depending on your location, prices should continue easing up unless the market becomes flooded with inventory.  Remember the supply and demand theory.
What is more popular today, New Construction or Established Homes?
Everything is popular in today's market whether New Construction or Established Home so long as it is priced correctly, maintained well and in a convenient location.
Vanessa Jenkins, MIRM
Executive Vice President
Preston Development Company
New home pricing and resale pricing certainly tie closely within a new home community. As long as the new homes are being priced at or above the the homes around them, as the pricing increases on new homes, it also increases on the resales within the neighborhood.
Growth within a community as a whole brings in buyers for the new construction as well as established homes – so a win-win for sellers of both.
It is a great time to sell your home. Resales are benefiting right now due to the recent increase in demand and historically low interest rates.