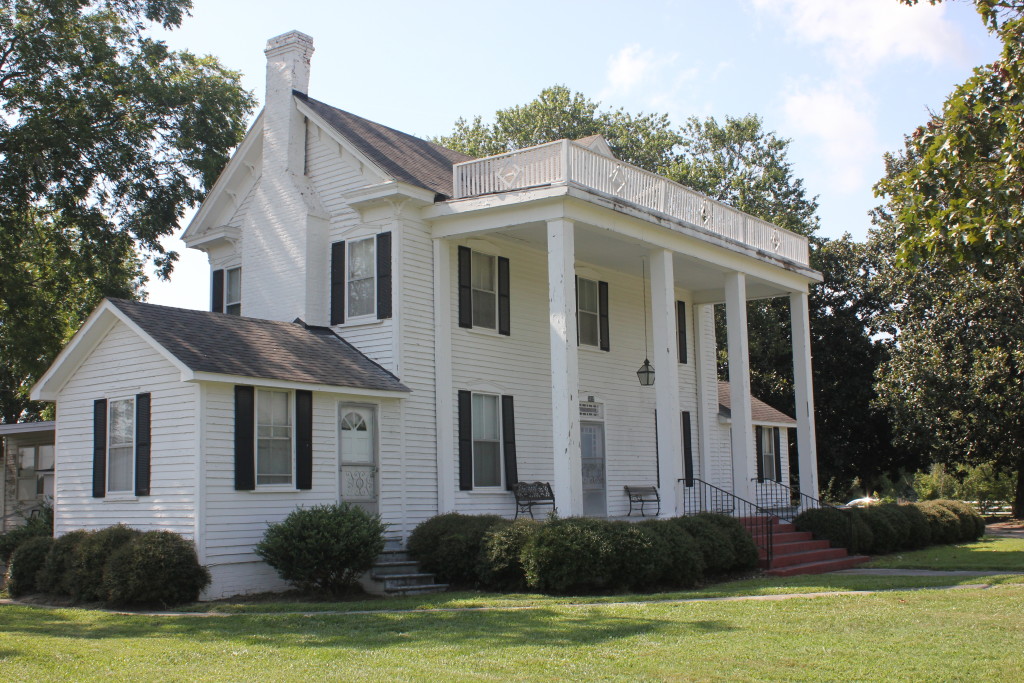 Nearly 500 years ago, the Adams family ancestors received property from the King of England in the form of a land grant. Today, Adams Vineyards calls a portion of that remaining land grant home. Located on roughly 100 acres, Adams still holds the title of the first vineyard and winery in the Triangle area.
In 2006, winery founder John "Johnny" Quincy Adams III decided he wanted to start farming the land again. There had been no major crops like tobacco, corn or soybeans since the early 1970s.  Johnny felt that taking the farm in a new direction was the key to enabling future Adams' generations to prosper and thrive on the land. The first vines were planted in 2006 and Adams Vineyards was producing and selling wine by September of 2008. They started with two dry, two semi-sweet and two sweet wines. Today, the winery now boasts 19 wines to satisfy a wide range of palates.
Sadly, Johnny passed away in 2010 due to complications with cancer. He left no recipes and only five unlabeled tanks full of wine.  The family had a choice—either move forward with the winery or shut down the operation. Barely missing a beat, they pulled together to regroup and decided that Johnny's wife Joyce and one of their sons, Quincy, would run the business.
Joyce went from volunteering at her church to running a winery. Although she had no formal training, Joyce took over the front end of the business, including marketing, employee management, and accounting duties. She taught herself accounts payable, accounts receivable, and more than she ever wanted to know about taxes. In addition to working in the tasting room and hosting weddings (and tons of other events) in the banquet room, Joyce attends festivals all over North Carolina on behalf of the winery. Joyce holds a degree from NC State University in Acidified Foods and spends some of her time in her State Certified kitchen pickling and canning or toiling over her famous "hot" chocolates. Joyce's Jams and Jellies are delicious and always available to purchase in the winery gift shop. Thanks to Joyce's marketing efforts, Adams wines can also now be purchased at select Lowe's Foods, both Cleveland Draft House locations and Jimmy's Corner Store.
While his mother tackled the business part of the winery, Quincy assumed the role of wine maker. While attending NC State University, he earned a degree in Natural Resources, which helped considerably when Quincy transitioned from loan officer with AgCarolina Farm Credit to full time vintner and vinti-culuralist at the winery. Quincy tends nearly 15 acres of grape and blackberry vines, as well as blueberry bushes and peach, pear, and apple trees. With a background in chemistry and biology, Quincy has been able to teach himself how to create award-winning muscadine and fruit wines. "He loves to see things grow. He has the heart of a farmer," says Joyce about Quincy leaving his public job to work at the winery.
Adams uses the scuppernong variety of the muscadine grape that was first found and cultivated in North Carolina. The grapes are harvested by hand in late August and throughout September, crushed to release the juices, and then fermented to create alcohol. Fermentation can take from 10 days to over  a month. After the wine is filtered to remove unwanted particles, it's ready for aging and bottling. Of course, this is a very simplified explanation of the wine-making process. It is truly more of an art than a science, and one that takes considerable time and dedication to master.
Several varieties of grapes are grown on the farm including Doreen and Carlos. They also have Bartlett, Kieffer & Secke pear trees; Intrepid, Contender, Bell of Georgia & Challenger peach trees; Golden & Red Delicious apple trees; Apache, Arapaho, Chester, Kiowa & Navaho blackberry vines and Premier, Powderblue, Climax and Tifblue blueberry bushes. The strawberries are sourced from Wake and Johnston counties.  All the fruit is hand-picked then crushed by hand at the winery and all of the fruit wines are 100% fruit with nothing added.
It is quite fitting that the first gold medal for the winery was awarded for "Papa Johnny's White Bliss," appropriately named for founder Johnny Adams. Since 2009, Adams Vineyards' wines have competed in the Mid-Atlantic Wine Competition at the Dixie Classic Fair in Winston-Salem and the NC State Fair competition where they have won 17 gold, 18 silver and 26 bronze medals. Additionally, their sweet red wine Matthew Red Reserve received "Best in Show" at the 2013 Mid-Atlantic Wine competition and their "Blueberry" fruit wine won the "Double Gold" at the 2012 NC State Fair competition.  The medals are proudly showcased in the tasting room at the winery!
In addition to the many awards the wines have received, Joyce and Quincy have also received accolades for their determination and sacrifice. Adams Vineyards, LLC was awarded the 2015 Innovative Farmer of the Year award from the Wake County Agribusiness Council, "recognizing the Wake County innovative farmer who sought new agricultural alternatives and opportunities."   The Wake County Agribusiness Council is an organization that helps raise awareness and promotes agriculture and agribusiness in Wake County. Believe it or not, Wake County farming is a $73.7 million industry.
However, there is no rest for these innovative farmers…between making wine, selling wine, and marketing wine, there's no time to slow down. Joyce says the best way to juggle all her duties is to work long hours and try her best to stay healthy. It's incredible to imagine this mother of three and grandmother of three working 80+ hours per week, but she does. Joyce's marketing efforts paid off in a big way recently when the North Main Athletic Complex in Holly Springs—home of the Salamanders baseball team—started serving Adams Vineyards wines at their games. Quincy is no slacker either. He's active at Mt. Pleasant Church and the Wake County Agribusiness Council, and shuttles his daughter all over the state to compete in volleyball tournaments.
Adams Vineyards also has the facilities to host a wide variety of events. They have a banquet hall and beautiful outdoor venue for weddings, reunions, bridal showers, anniversary dinners, and other special occasions. But their biggest celebration each year isn't a wedding or fancy dinner, it's the annual Grape Stomp! On Saturday, September 19th 1:00pm – 5:00pm, Adams Vineyards will host their 8th Annual Grape Stomp with wine tastings, food trucks, music, and prizes for grape stomping. Joyce and Quincy encourage everyone to come out to the farm and vineyards. "We have delicious wine, a good selection, and beautiful vineyards in a pretty country setting."
Family is at the core of Adams Vineyards. Johnny Adams planted the vineyard as a way to hold on to his family's land. Quincy names wines after passed family members "so they can live on in memory."  Joyce works tirelessly to promote the business, because that's just what you do for your family. Visit Adams Vineyards, you'll feel like family when you leave.