Business development in Fuquay-Varina has been at a fever pitch over the last few months, and the next year or two will be no exception! Let's get caught up on all the new developments and projects that are popping up around town: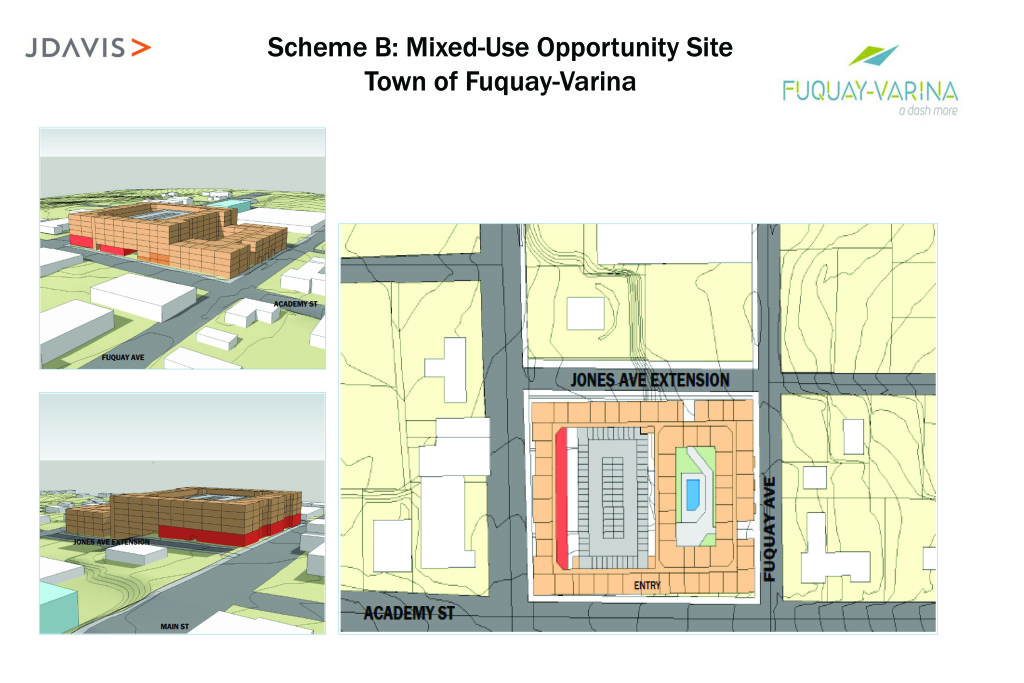 Big Announcement!
In March of 2015, the town hired the UNC School of Government's Development Finance Initiative (DFI) to conduct market research and provide an assessment of the downtown areas that could be used to leverage new infill mixed-use development. During 2016, the Town's Economic Development Department worked to identify property downtown that is well-positioned to build a catalyst, mixed-use development project that includes civic, commercial, retail and residential uses that promote a walk-able and livable downtown.
Also during this time, the town board authorized funding to analyze and identify specific sites for development, determine project scale, evaluate financing options, identify potential private development partners, and help negotiate development services agreements with development partner(s). A year ago, the town hired architectural firm JDavis  to help them in the predesign process for a major project in the downtown Fuquay retail district. The task was to look at the proposed site and develop conceptual scenarios the town could use to attract a high-quality development partner to bring the project to fruition, taking into consideration the surrounding project area (adjacent streets, buildings, and downtown context). While this process was underway, the town assembled the purchase rights to 3.5 acres of property along Main Street in the downtown Fuquay retail district.
Last month, Economic Development Director Jim Seymour and representatives from DFI and JDavis unveiled the first conceptual renderings of a major downtown development project that will utilize all 3.5 acres in a design that will include approximately 250 first-class market-rate apartments and 35,000 square feet of new retail and commercial office space. A new 4-5 story parking structure has also been envisioned for the project to provide adequate parking to the residents and retailers as well as new, additional parking for the public. These initial schematic designs preserve and enhance the character of Fuquay-Varina's downtown streetscape. Initial public feedback at the informal stakeholder meetings in May was very positive and existing downtown business owners are excited to be part of the early stages of this project.
The next step for the town is to solicit a development partner to execute the final development design concept and program. From that process will come the more formal vision for the actual project and render actual designs and facade drawings as the site is developed.
"This will be a transformational project downtown that creates new live, work and play opportunities that benefit our existing downtown merchants," stated Economic Development Director Jim Seymour. "When the Town Board made downtown development efforts and leveraged new private sector investment into our downtown, we knew it would ultimately lead to a project like this."

Lincoln Heights Elementary School
LHES is in the middle of a full-blown, multi-million dollar renovation project that already has irrevocably changed the landscape at the site. One full wing has been completed, but the gym, cafeteria, front office space, and another wing are still under construction. Anticipated completion date is sometime this summer!
Bridge Street Construction
With the anticipated closure of the Lawrence Street railroad crossing, access to Lawrence Street from Bridge Street has been under construction for a couple of months. When finished, paved access between the two streets will be Southern Street, which has been a dirt road previously. The town has also been installing sidewalks in gaps along Bridge Street from W. Academy Street to Lincoln Heights Elementary School, including improved pedestrian access across the Norfolk-Suffolk railroad crossing.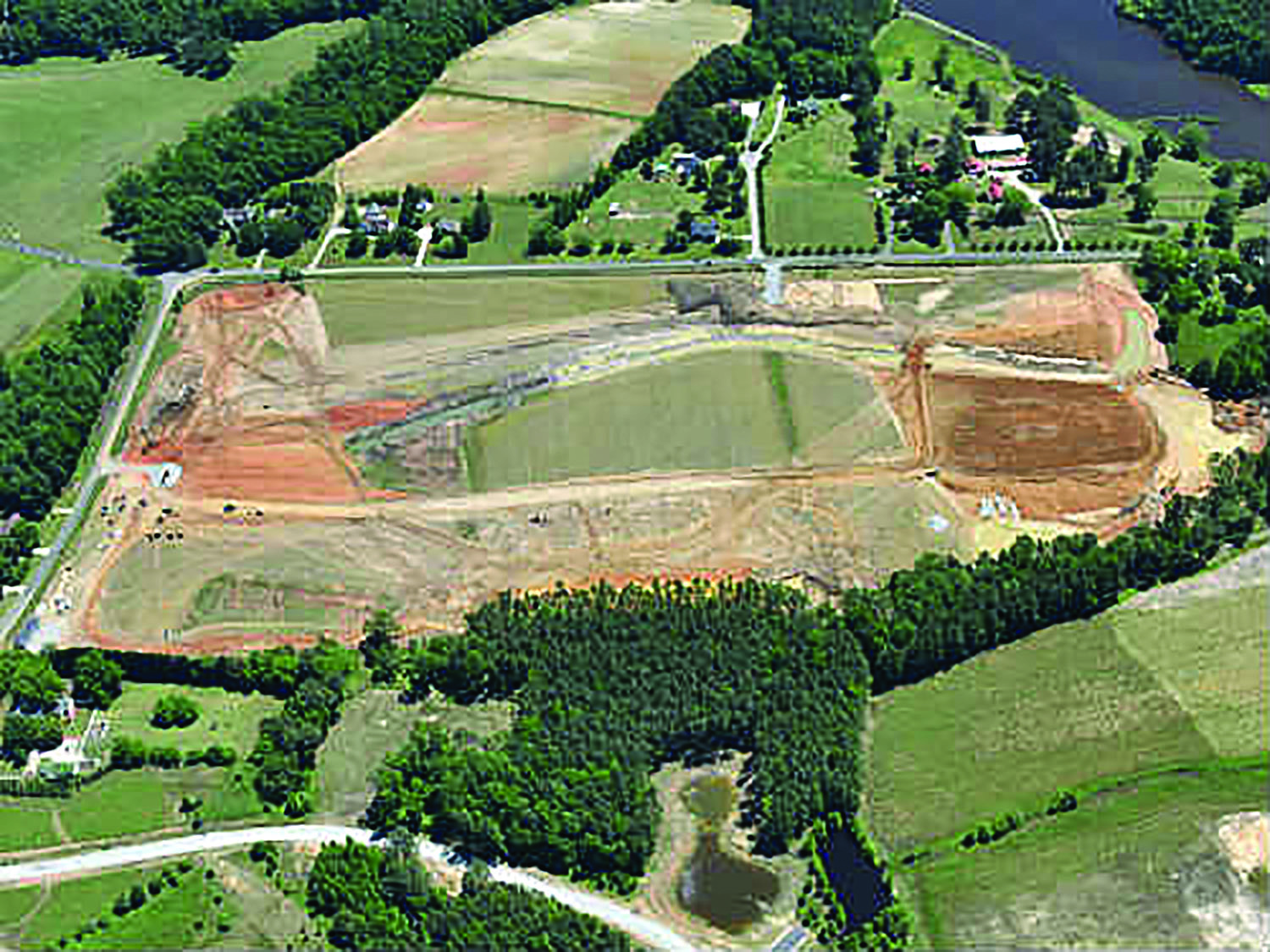 Willow Spring High School
According to the town's website, a site plan is under review for a brand new Wake County high school at the intersection of Old Honeycutt Road and Kennebec Road. This project has already been approved by Wake County Schools and funded, and there have been reports of dirt-moving equipment being seen on site, so things are progressing quickly. This is easily one of the more exciting projects in Fuquay-Varina at the moment!

FV Arts Center
With a site plan finally approved and funded for the former STARS Theater on Vance Street, the construction of the future Fuquay-Varina Arts Center has begun. The parking lot to the rear of the building is closed to the public while the building is under construction. When the 18,000 square foot project is completed, it will consist of a 400-seat professional theater, dance space, art rooms, and more! This center will be the anchor in a developing arts district in downtown Fuquay.
Commercial Projects
Middle Creek Development
Two new buildings will be coming soon next to Bojangles and Sheetz on Rt. 401 near Banks Road. Two 4,000 square foot buildings will be available for commercial, office, retail or restaurant space. The site plan has been approved and construction begins soon.
State Employees Credit Union
A 51-acre site has been purchased at the intersection of Rt. 401 and Banks Rd. for a new State Employees Credit Union facility. The new building will be 10,000 square feet of space. A site plan has been submitted for review.
McCormick Medical Building
This project is located directly behind Four Oaks Bank and adjacent to Academy East Veterinary Hospital on two Attain Street lots (401 and 405). The medical office facility will have 11,300 square feet and will include 71 parking spaces.
The Learning Experience
This new childcare facility is being proposed for a commercial outparcel lot adjacent to The Villages of Marquee Station on Rt. 401. The 10,000 square-foot building will occupy a 1.43 acre lot. This will be very convenient for the professional families that live in the 5 Points area.
Fleming Loop Park
Thanks to a couple of state grants, improvements have been approved for Fleming Loop Park, located at 503 Fleming Loop Road. Those projects include improvements to the soccer fields, the addition of restroom facilities, a picnic/activity shelter, new playground equipment, and a paved parking lot. These improvements are the result of the increased tourism brought to the town of Fuquay-Varina by the balloon festival in May every year.
Meridian at Broad Street Market
The apartment complex that is going up behind Food Lion between Judd Parkway and James Slaughter Road is the Meridian at Broad Street Market multi-family residential complex. The development features 216 total apartment units and a 7,453 square-foot clubhouse building with an outdoor pool. The facility plans to open initial units in July.
Aldi Renovations 
Coming soon is an anticipated Aldi expansion project that will actually shut the store down for 6-8 weeks in July. The franchise plans to add over 3,000 square feet and more parking spaces as well as update the existing facility.
Residential Projects
The explosion in residential development continues to make waves in southwest Wake County. Fuquay-Varina currently has 15 subdivisions in various stages of construction, from infrastructure completion and the beginning of house construction to the build-out of final phases. Gray's Creek, which was a new development two years ago, is now building homes in all phases of its neighborhood. Others such as Partin Place, Sunset Bluffs, and Tyler Park are starting to build in new phases as they expand development.
In addition to those that are already building homes, there are 15 subdivisions that have submitted applications or site plans to the town's planning department for approval! That's over 1,200 new homes in addition to the 15 subdivisions currently under construction! Maybe we'll qualify for that Panera Bread after all!!